Benzinga's Weekend M&A Chatter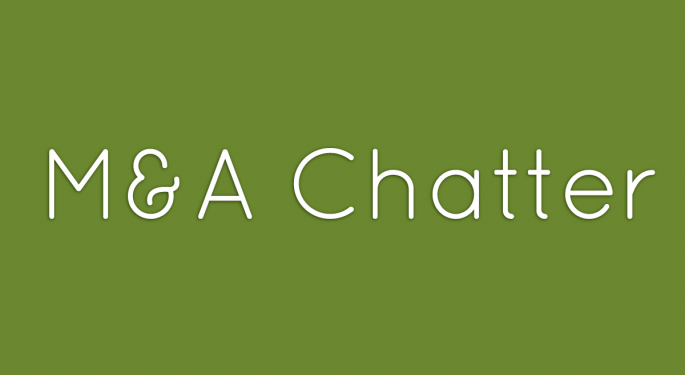 The following are the M&A deals, rumors and chatter circulating on Wall Street for Friday October 24 through Sunday October 26, 2014:
Chiquita Deal with Fyffes Terminated
The Termination:
Chiquita Brands International, Inc. (NYSE: CQB) announced Friday, that the results of the special shareholder meeting show that Chiquita shareholders did not approve the revised transaction agreement with Fyffes plc (OTC: FYFFF). The parties have therefore terminated the transaction agreement. Chiquita said that it expects to enter into talks with the Cutrale/Safra Group regarding their revised offer to acquire Chiquita for $14.50 per in cash.
Chiquita says no agreement has been reached with Cutrale/Safra Group
Chiquita Brands closed Friday at $14.16, a gain of almost 3%.
Hearing Deal Reporter Says Varian Medical Interested in IsoRay
The Rumor:
Shares of IsoRay, Inc. (NYSE: ISR) rose as high as $2.03 on Friday, on a report from Deal Reporter that the Varian Medical Systems, Inc. (NYSE: VAR) is looking at the company that uses Cesium-131 to treat cancer.
IsoRay closed Friday at $1.89, a gain of 31%.
Digital River to be Acquired for $26.00/Share in Cash
The Deal:
Digital River, Inc. (NASDSQ: DRIV) announced late Thursday, that it is being acquired by an investor group led by Siris Capital Group, in a transaction valued at approximately $840 million, or $26.00 per share in cash. The deal was approved by Digital River's Board of Directors and is expected to close in Q1 of 2015.
Digital River shares gained 47% Friday, to close at $25.65.
Williams, Williams Partners, Access Midstream Partners, Announce Merger Agreement
The Deal:
Williams (NYSE: WMB), Williams Partners L.P. (NYSE: WPZ), and Access Midstream Partners, L.P. (NYSE: ACMP) announced Sunday, that Williams Partners and Access Midstream Partners have entered into a merger agreement. Williams owns controlling interests in the two master limited partnerships (MLP).
Under the terms of the merger agreement, WPZ will merge with a subsidiary of ACMP in a unit-for-unit exchange at a ratio of 0.86672 ACMP common units per WPZ common unit held by the WPZ public unitholders. Williams initially proposed the merger of ACMP and WPZ on June 15, 2014, concurrent with the announcement that Williams had acquired the ACMP common units and general partner interests in ACMP owned by Global Infrastructure Partners. Under the original terms, Williams proposed that ACMP would acquire WPZ at an exchange ratio of 0.85 ACMP common units for each WPZ common unit plus additional consideration of $0.81 per WPZ common unit to be paid by ACMP in cash or additional ACMP common units. After subsequent negotiations, the parties agreed that the WPZ public unitholders would receive 0.86672 ACMP common units which represented the original 0.85 ACMP common units plus additional consideration of approximately $1.02 per WPZ common unit in the form of additional ACMP common units, based on the closing price of ACMP as of October 24, 2014. Williams agreed to reduce the exchange ratio it would receive in the merger to offset the approximately $1.02 of value provided to the WPZ public unitholders.
The merger is expected to be completed by early 2015.
Williams Companies gained $0.14 Friday, to close at $53.24, Williams Partners lost $0.47 to close at $50.00 and Access Midstream Partners lost $0.27, to close at $60.83.
View Comments and Join the Discussion!