Chipotle's Vegan Menu Expansion Is Bottom Line Healthy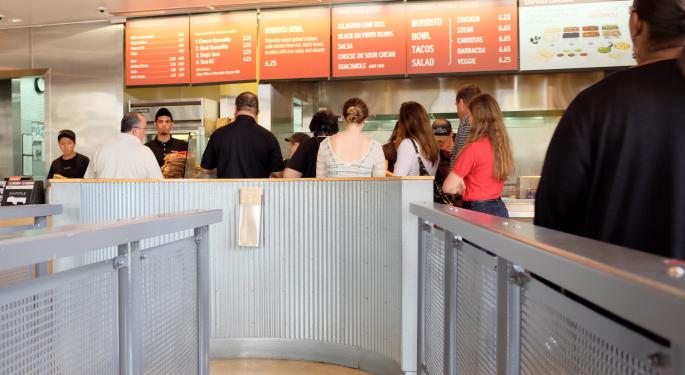 Chipotle Mexican Grill, Inc. (NYSE: CMG) announced recently that it planned to expand its vegan "Sofritas" option to nine additional states.
The move would make the braised and shredded tofu item a permanent menu offering in those new areas.
Related Link: Chipotle Mexican Grill Beats Q3 Estimates, Sees Slowing Growth For 2015
Going Nationwide
With the expansion, Chipotle would be adding its "Sofritas" to Texas, Louisiana, Arkansas, Alabama, Tennessee, Florida, Georgia and the Carolinas.
Previously Chipotle's vegan menu has been available in California, Colorado, the Pacific Northwest, Chicago and select East Coast cities.
According to the company, by the end of the year, tofu burritos would be available as a permanent menu item nationwide.
Vegan Fast Food Is A 'Thing'
Chipotle is not the only fast casual or fast food restaurant to offer a vegan menu. Vegan Restaurants Hub listed more than 60 chains with vegan menus.
In addition to Chipotle, the site features links to vegan menu offerings from Burger King Worldwide Inc, Yum! Brands, Inc.'s, Taco Bell, Domino's Pizza, Inc., Panera Bread Co and many more.
According to Gallup, only about 5 percent of the population of the U.S. says they are vegetarian and only 2 percent declare a vegan lifestyle. So why do so many chains include a vegan menu?
Good For The Bottom Line
Wedbush Securities, Inc. analyst, Nick Setyan may have hit on possible reasons when he told Benzinga that Chipotle's vegan expansion move would be good for the company's bottom line.
According to Setyan, the move would help Chipotle accomplish two important revenue-based goals for any fast casual chain –- bringing in new customers and helping to contain costs.
New Customers
Expanding Chipotle's vegan footprint, Setyan said, "Helps lift sales incrementally by allowing them to incorporate new customers that previously would not have considered Chipotle an option."
According to Setyan, in stores where "Sofritas" were currently available, the vegan menu item accounted for 3.5 percent of sales.
Related Link: Is McDonald's Going Fast Casual?
The Protein Problem
In addition, Setyan said, the move would allow Chipotle "to diversify their food basket away from [meat] proteins."
Setyan pointed out that meat protein costs "have and will likely continue to be a headwind."
Anything Chipotle could do, he said, to "lower the overall mix of [meat] proteins should help with food cost inflation on the margin."
At the time of this writing, Jim Probasco had no position in any mentioned securities.
Posted-In: Burger King Worldwide Inc. Chipotle Mexican Grill Domino's Pizza Inc gallup Inc. Nick SetyanRestaurants General Best of Benzinga
View Comments and Join the Discussion!