Benzinga's M&A Chatter for Thursday October 16, 2014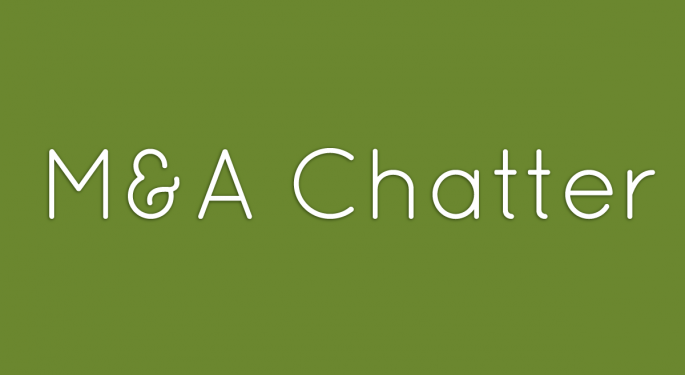 The following are the M&A deals, rumors and chatter circulating on Wall Street for Thursday October 16, 2014:
Hearing Deal Reporter Says Woodside May Pay Up to $4B for Interoil
The Rumor:
Shares of InterOil Corporation (NYSE: IOC) rose Thursday, on a report from Deal Reporter that Woodside Petroleum Ltd. (OTC: WOPEF) could offer as much as $4B.
Spokespersons for Interoil and Woodside did not immediately respond to requests for comment.
InterOil closed Thursday at $48.64, a gain of 5%.
CQB Rejects Cutrale $14.00 Offer
The Rejection:
Cutrale-Safra announced Wednesday, an offer to acquire all the outstanding stock of Chiquita Brands International Inc. (NYSE: CQB) for $14 per share in cash. Chiquita said on Thursday that its Board of Directors, after consulting with legal and financial advisors, unanimously rejected the offer as inadequate and not in the best interests of Chiquita shareholders.
Chiquita reiterated that the implied present value of future share price range of ChiquitaFyffes is $15.46 to $20.01 based on a range of EBITDA growth during 2015 of 5% to 15% and an LTM EBITDA multiple range of 7.0x to 8.0x.
Chiquita closed Thursday at $13.61, a loss of 1.5%.
Lumos Has Hired Wells Fargo to Explore Strategic Alternatives
The Rumor:
Shares of Lumos Networks Corp. (NASDAQ: INGR) spiked higher Thursday, on a report from Bloomberg, that the company had hired Wells Fargo to assist it in exploring strategic alternatives, including a potential sale of the company. Sources says deal for Lumos, could be valued at $1 billion including debt.
Regional phone companies and private equity firms might be interested in acquiring Lumos, according to the report.
Lumos Networks shares rose almost 9% Thursday, to close at $16.30.
AbbVie Board Recommends Shareholders Vote Against Shire Transaction
The Withdrawn Recommendation:
Following Shire plc's (NASDAQ: SHPG) waiver of the three-day notice period, AbbVie (NYSE: ABBV) announced Thursday, that its Board of Directors has withdraws its recommendation of July 18, 2014 regarding the proposed merger with Shire and recommends that shareholders vote against the transaction.
AbbVie and its determined, following consideration of the impact of the Treasury's proposed changes to the tax rules, as stated on September 22, 2014. These proposed changes created an unacceptable level of uncertainty to the transaction and eliminated certain financial benefits, including th ability to access current and future global cash flows in a tax efficient manner.
Shire shares rose 4.5% Thursday, to close at $178.46, while AbbVie shares fell 3% to $52.90.
View Comments and Join the Discussion!