Benzinga's Weekend M&A Chatter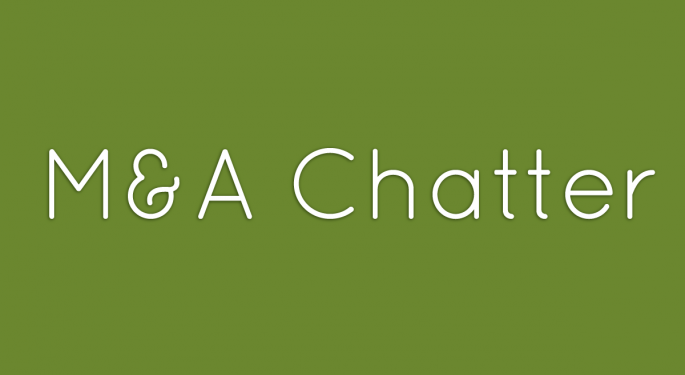 The following are the M&A deals, rumors and chatter circulating on Wall Street for Friday September 19 through Sunday September 21, 2014:
Siemens Could Announce Deal for Dresser Rand as Early as Monday; GE Reportedly Joined Bid Process
The Rumor:
Shares of Dresser-Rand Group Inc. (NYSE: DRC) rose as high as $85.00 after-hours Friday, on a report from Financial Times that General Electric Company (NYSE: GE) has joined Germany's Siemens Aktiengesellschaft (OTC: SIEGY) and Swiss Company Sulzer, Ltd. (OTC: SULZF) in a bidding war for the Houston-based supplier of custom-engineered rotating equipment solutions for the oil, gas and power industries.
On Sunday, Reuters reported that Germany's Siemens AG (OTC: SIEGY) was close to a deal for Dresser-Rand, and that it could be announced as early as Monday. Siemens proposal is said to be an all-cash offer in the low-mid $80's per share.
A Spokesperson for Dresser-Rand was not available for comment. Spokespersons for Siemens and GE declined comment. A spokesperson for Sulzer told Benzinga on Sunday, the company may provide an update of the talks with Dresser-Rand on Monday.
UPDATE: Dresser-Rand has agreed to sell itself to Siemens for ~$7.6B in Cash or $83 per share.
Dresser-Rand shares closed the regular session Friday at $79.91, a gain of more than 9%.
TransCanada Acknowledges Significant Trading Activity in Common Shares
The Acknowledgement:
TransCanada Corporation (NYSE: TRP) released a statement Friday, acknowledging significant trading activity in TransCanada's common shares. The company stated: "TransCanada firmly believes its current corporate form, asset base and financial strength provide critical underpinning to execute the company's industry-leading $38 billion capital program which is expected to generate significant, sustainable growth in future cash flow, earnings and dividends."
Shares of Transcanada surged higher Thursday, following a Reuters report that some of the company's major shareholders have been contacted by hedge funds, including Dan Loeb's Third Point, regarding a potential break-up of the company.
Transcanada shares closed Friday at $56.19, a gain of more than 1%.
Report Clorox Rejected Advance from Prospective Buyer
The Rumor:
The Clorox Company (NYSE: CLX) has reportedly rejected a takeover or merger offer from a rival packaged-goods company, according to the NY Post. Sources did not confirm the suitor, but potential names include Church & Dwight, Procter & Gamble (NYSE: PG), Jarden (NYSE: JAH) and Unilever (NYSE: UN).
Clorox closed Friday at $90.57, a gain of $0.67.
Iliad Sets Mid-October Deadline to Decide on New T-Mobile Bid
The Rumor:
France's Iliad (OTC: ILIAF) has reportedly Iliad has set a deadline of mid-October to decide whether to raise its bid for T-Mobile US (NYSE: TMUS), according to a report from Reuters on Friday. A source close to T-Mobile's owner, Deutsche Telekom (OTC: DTEGY), said the company has doubts on the ability of the French carrier to improve on its bid. Iliad is reportedly in talks with U.S. banks, in addition to HSBC and BNP Paribas, to help it finance a higher offer.
According to sources, Iliad could offer $35.00-$40.00 per share for as much as a 90% stake in T-Mobile, depending on the financing.
T-Mobile closed Friday at $30.07, a loss of more than 1%.
Posted-In: News Rumors Management M&A Movers
View Comments and Join the Discussion!