Technology Stocks Down As Rest Of The Market Starts Week Flat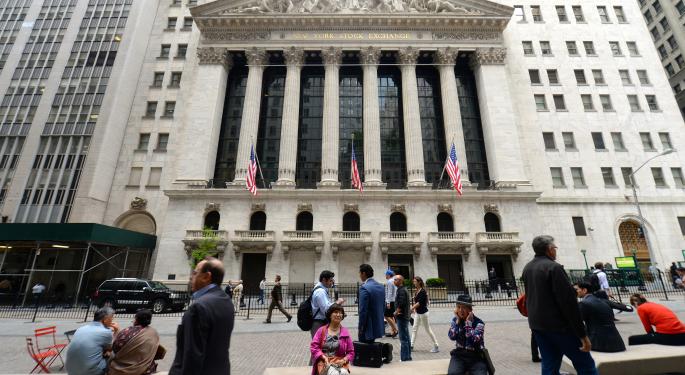 Although the S&P 500 finished the day flat, high-flying technology stocks were hit hard, dragging the sector down 0.8 percent on the session.
The Dow Jones Industrial Average gained 43.6 points, or 0.26 percent, to close at 17,031.
The S&P 500 dropped 1.4 points, or 0.1 percent, to close at 1,984.
The Nasdaq gave up 48.7 points, or 1.1 percent, to close at 4,519.
Top Stories
Shares of Anheuser Busch Inbev SA (ADR) (NYSE: BUD) traded higher on a rumor that the company was talking to banks for the acquisition of SABMiller (OTC: SBMRY). The Wall Street Journal indicated that Anheuser Busch was not yet in talks with the target.
Related Link: The Alibaba IPO & Six Other New Issues For The Week Of September 15
TRW Automotive Holdings Corp (NYSE: TRW) announced that it will be acquired by ZF Friedrichshafen for $13.5 billion. Investors have been waiting for the deal to be confirmed for several months.
Due to strong demand, Alibaba (NYSE: BABA) raised top end of its IPO range by 6 percent. The increase was confirmed in an after-hours amended F-1 filing. This would put shares of $66 to $68 (up from $60-$66). Shares of Yahoo! Inc. (NASDAQ: YHOO) initially shot higher on the news, but slowly sold off to close in the red.
Stock Movers
Avanir Pharmaceuticals (NASDAQ: AVNR) shares shot up 85.3 percent to $12.49 after the company reported positive Phase II trial results for AVP-923 in treatment of agitation in patients with Alzheimer's disease.
Shares of Alere Inc (NYSE: ALR) got a boost, shooting up 12.4 percent to $41.14 following the proposed $46 per share offer from Ron Zwanziger.
Molson Coors Brewing Company (NYSE: TAP) shares were also up, gaining 5.9 percent to $76.43 following the M&A news of SABMiller and Anheuser Busch.
Shares of Bankrate Inc (NYSE: RATE) were down 13.8 percent to $11.92 after the company named Steven Barnhart as interim chief financial officer and announced the SEC investigation relating to 2012 financial reporting.
NPS Pharmaceuticals, Inc. (NASDAQ: NPSP) shares tumbled 16.6 percent to $27.28. The FDA has voted 8-5 in favor of NPS Pharmaceuticals' Natpara.
Terex (NYSE: TEX) was down, falling 6.4 percent to $32.47 after the company lowered its 2014 earnings forecast.
Global Markets
Asian markets started the week with mixed results. The Shanghai index rose 0.3 percent with Hong Kong's Hang Seng down one percent. Japan's Nikkei picked up 0.3 percent on the session.
Europe was mostly unchanged Monday. The Euro Stoxx index, which tracks 50 blue chips sold off 0.1 percent, London's FTSE dropped 0.04 percent and France's CAC fell 0.3 percent.
Commodities
Crude oil and gold both moved higher Monday, showing some buying as the commodities plummet to year lows. Oil futures rose 0.57 percent to $92.80.
Gold found some buyers around $1,230 as it crashes from $1,300 over the past month. Contracts gained 0.23 percent Monday and were last trading at $1,234.30.
Currencies
The Powershares ETF (NYSE: UUP) that tracks the value of the U.S. dollar versus a basket of foreign currencies was flat on the day. The ETF sits just $0.06 off its year high at $22.43.
Posted-In: Gold OilNews Commodities Forex Econ #s After-Hours Center Markets Best of Benzinga
View Comments and Join the Discussion!