Benzinga's Weekend M&A Chatter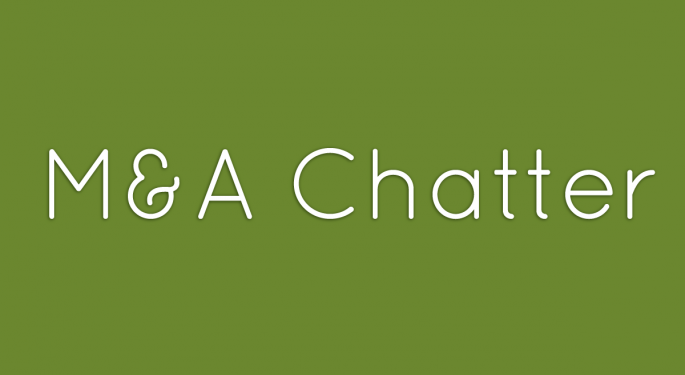 The following are the M&A deals, rumors and chatter circulating on Wall Street for Friday September 12 through Sunday September 14, 2014:
Google Rumored to be Taking Up to 40% Stake in Ebay
The Rumor:
Shares of Ebay, Inc. (NASDAQ: EBAY) surged higher Friday, on a note being circulated that Google Inc. (NASDAQ: GOOGL) could acquire as much as a 40% stake in Ebay for $68.00 per share.
Sean Udall of Quantum Trading Strategies, told Benzinga that PayPal most likely accounts for vast majority of Ebay's market cap, and that the company has made a mistake in waiting this long to basically spin out PayPal as a separate company. Udall said Microsoft Corporation (NASDAQ: MSFT), in addition to Google, may also be interested in acquiring eBay.
A spokesperson for Ebay said the company has had no discussions with Google regarding a stake. A Google spokesperson declined comment on the rumor.
Ebay shares traded as high as $53.07 Friday and closed at $52.19, a gain of 3% on more than three times average volume.
Pfizer May Have Interest in Acquiring Actavis
The Rumor:
Shares of Actavis (NYSE: ACT) moved higher Friday, on a note being circulated that the company could be a takeover target of Pfizer (NYSE: PFE). Actavis has itself been on a buying spree in the past year, with the $25 billion acquisition of Forest Labs, $5 billion deal for Warner Chilcott and $1.1 billion takeover of Furiex Pharmaceuticals.
Spokespersons for Pfizer and Actavis were not available for comment.
Actavis traded as high as $239.15 on Friday and closed at $234.28, a gain of $1.64.
Ericsson to Acquire Fabrix from IDT for $95M
The Deal:
IDT Corporation (NYSE: IDT) announced Friday that it has agreed to sell its interests in Fabrix Systems to Ericsson (NASDAQ: ERIC) for $95 million. The deal is expected to close in October 2014.
IDT closed Friday at $16.45, a gain of 5%.
View Comments and Join the Discussion!