Jobs Report Surprises To The Downside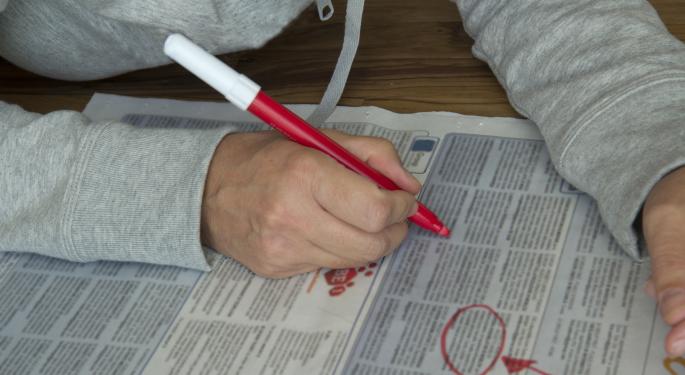 The Bureau of Labor Statistics reported that Nonfarm Payrolls, which is one of the most closely-followed gauges regarding the state of the economy, increased by just 142K in the month of August.
The increase in the number of new jobs was well below the consensus estimates for an increase of 225K and also below July's revised 212K (June: 298K, May: 229K, Apr: 304K, Mar: 203K, Feb: 197K, Jan: 129K Dec: 84K, Nov: 244K, Oct: 200K, Sept: 163K, August: 193K, July: 89K).
August marked the first month in the last seven where job growth totals failed to exceed 200K.
August's 142K new jobs was the lowest monthly total since December 2013.
As usual, there were revisions to the prior two months' reports. July's report saw an increase of 3K from 209K to 212K, while June's job totals were revised lower by 31K to 267K from 298K.
This means the economy created 28,000 fewer new jobs in the prior two months than had been previously reported.
The private sector job growth also came in below expectations in August. The private sector produced 134,000 jobs, which was below the 223,000 level reported in this week's ADP report.
The nation's Unemployment Rate fell to 6.1 percent in August which is down 0.1 percent from the 6.2 percent-level seen in July (June: 6.1 percent, May: 6.3 percent).
Recall that an unemployment rate of 6.1 is the lowest since September, 2008.
The Labor Force Participation Rate downticked for the month at 62.8 (July: 62.9, June: 62.8 percent, May: 62.8 percent, Apr: 62.8 perent, Mar: 63.2 percent, Feb: 63.0, Jan: 63.0 percent, Dec: 62.3, Nov: 63.0 percent).
It should be noted that payroll totals currently exceed the pre-2008 recession levels.
Next, the average number of weekly hours worked was reported at 34.5, which was in line with the expectations for 34.5 and last month's 34.5.
Finally, the average hourly earnings of workers increased by +0.2 percent, which was in line with the consensus expectations for an increase of +0.2 percent.
Stock futures have improved on the news because of the view that the job creation numbers were not strong enough to cause the Fed to raise rates earlier than expected.
Tags: Bureau of Labor Statistics Labor Force Participation Rate
Posted in: News Econ #s Best of Benzinga