Benzinga's M&A Chatter for Thursday September 4, 2014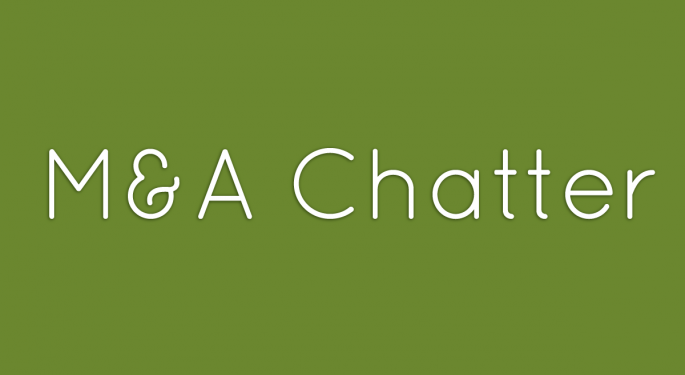 The following are the M&A deals, rumors and chatter circulating on Wall Street for Thursday September 4, 2014:
Electrolux Near Deal to Acquire GE's Appliance Unit for $2.5B
The Rumor:
Electrolux (OTC: ELUXY) is close to a deal to acquire GE's (NYSE: GE) appliance unit for more than $2.5 billion, according to Reuters. According to sources, a deal could be announced as early as next week.
Electrolux confirmed on August 14, it was in talks with GE. Spokespersons for the two companies declined comment on today's report.
GE closed Thursday at $25.96, a gain of $0.01.
United Biscuits Reportedly Meeting with Potential Buyers Including Kellogg
The Rumor:
United Biscuits is reportedly meeting this week with potential buyers, including Kellogg (NYSE: K), Ferrero, Ontario Teachers, Ulker, according to WSJ. Sources say the company is pursuing both a sale and an IPO.
Sky News first reported on August 6, that Kellogg had hired Barclays to consider an offer for the UK-based company.
Kellogg closed Thursday at $64.93, a gain of $0.14.
Move Inc. Acquires Point2's U.S. Listing Syndication Service
The Deal:
Move, Inc. (NASDAQ: MOVE) announced Thursday, the acquisition of the listing syndication arm of Point2. The acquisition will give Move access to three million listings, almost 85% of residential listings in the U.S.
Move, Inc. closed Thursday at $15.73, a gain of $0.04.
View Comments and Join the Discussion!