Benzinga's M&A Chatter for Wednesday September 3, 2014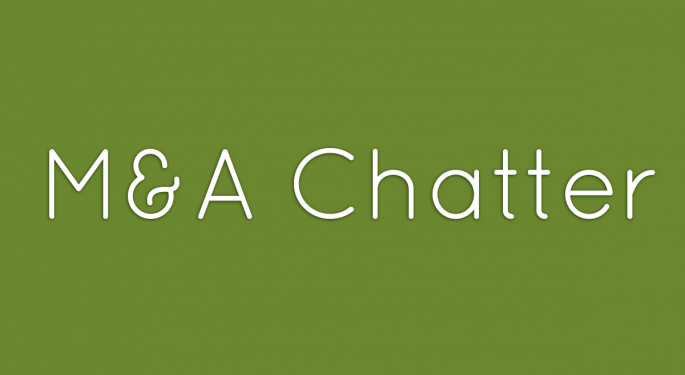 The following are the M&A deals, rumors and chatter circulating on Wall Street for Wednesday September 3, 2014:
3D Systems Announces Purchase of LayerWise; No Terms Disclosed
The Deal:
3D Systems (NYSE: DDD) announced Wednesday, provider of advanced direct metal 3D printing and manufacturing services, LayerWise. The terms of the transaction were not disclosed.
3D Systems closed Wednesday at $51.83, a loss of 1.5%.
Report Icahn Sells Family Dollar Stake
The Rumor:
Carl Icahn has reportedly sold his entire stake in Family Dollar (NYSE: FDO), according to Reuters. Sources say Icahn's profit on the transaction was $200 million.
Icahn disclosed a 9.4% stake in Family Dollar in June, urging the discount retailer to sell itself. The company continues to support an offer from Dollar Tree (NASDAQ: DLTR) of $59.60 in cash and $14.90 in Dollar Tree shares, as announced on July 28. Dollar General (NYSE: DG) raised its offer to $80.00 per share in cash on Wednesday.
Family Dollar closed Wednesday at $80.23, a gain of $0.01.
TIBCO to Review Strategic Alternatives
The Review:
TIBCO Software (NASDAQ: TIBX) announced Wednesday, that its Board of Directors unanimously initiated a review of strategic and financial alternatives on August 16, 2014. The company formed a Special Committee of independent directors and retained Wilson Sonsini Goodrich & Rosati and Goldman Sachs to assist in the review.
Tibco has been the subject of frequent takeover chatter, most recently involving Hewlett-Packard (NYSE: HPQ) and IBM (NYSE: IBM).
TIBCO Software closed Wednesday at $21.04, and traded as high as $23.22 after-hours.
Teledyne to Acquire Bolt Technology for $22/Share in Cash
The Deal:
Teledyne Technologies (NYSE: TDY) and Bolt Technology (NASDAQ: BOLT) announced Wednesday an agreement, whereby Bolt will merge with a wholly-owned subsidiary of Teledyne. Under the agreement, Teledyne will acquire all of the outstanding common shares of Bolt for $22.00 per share in cash.
Bolt Technology closed Wednesday at $16.10, and traded as high as $23.33 after-hours.
Manulife to Acquire Canadian Operations of Standard Life for $4B In Cash
The Deal:
Manulife Financial (NYSE: MFC) announced Wednesday, that The Manufacturers Life Insurance Company and Standard Life Oversea Holdings, a subsidiary of Standard Life plc, have entered into an agreement under which MLI will acquire the Canadian-based operations of Standard Life for approximately $4 billion in cash.
The deal is expected to close in Q1 of 2015.
Manulife Financial closed Wednesday at $20.52, and traded lower after-hours following the announcement.
View Comments and Join the Discussion!