Analysts Put The Brakes On Talk of A Subprime Auto Lending Bubble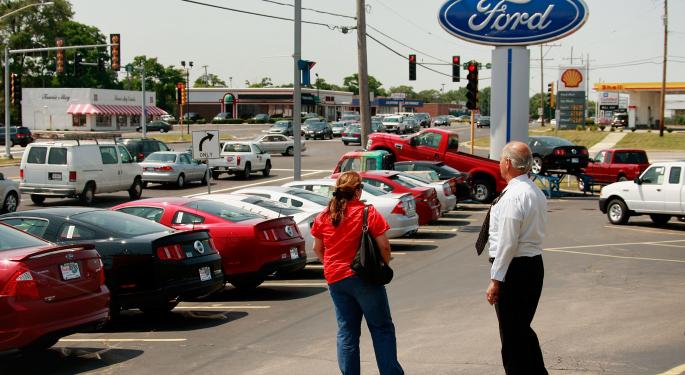 Is there a risk of a subprime auto lending "bubble"?
The New York Times raised that question in July, in a lengthy investigative article on its DealBook page. According to the article, the number of used-car auto loans -– mostly to people with bad or no credit -– has jumped more than 130 percent in the past five years.
It also notes about 25 percent of auto loans approved last year went to people with credit scores at or below the 640 mark.
"The loans often come with terms that take advantage of the most desperate, least financially sophisticated customers," the article adds. "The surge in lending and the lack of caution resemble the frenzied subprime mortgage market before its implosion set off the 2008 financial crisis."
Related: Automaker Recalls Have Dented The Rental Car Industry's Bottom Line
A Different Lending Landscape
Economists at Equifax (NYSE: EFX) beg to differ. In a recently-released economic trends commentary, the consumer credit reporting agency took issue with what it called the "highly-publicized notion" that subprime auto loans could be creating a new bubble.
"The lending landscape today is not the same as it was in 2007 –- both because lenders generally have a reduced appetite for risk and because regulatory scrutiny has increased," Dennis Carlson, deputy chief economist at Equifax, said in a press statement.
Using information from the Equifax databases, Carlson and his colleagues reportedly found subprime lending in the auto sector has been "fairly stable" over the past two years, with recently-opened subprime loans performing well, and many of those loans shifting towards the higher end of the subprime credit score spectrum.
Some auto industry analysts, meanwhile, agree that concerns about a subprime bubble have been overstated
"Although subprime loans as a share of all outstanding auto loans has been growing, there is little data to support the claims that the subprime sector presents any significant risk to the auto sector or economy as a whole in the near term," Alec Gutierrez, a senior analyst for Kelley Blue Book, told Benzinga.
Apples To Oranges?
According to Gutierrez, any comparisons between the current subprime loan market and that market prior to the recession are "somewhat invalid," since the average subprime auto loan's balance is far smaller than the typical subprime mortgages that helped to trigger the financial crisis.
"If the economy were to take a turn for the worse," he continued, "the amount of risk to the auto industry per borrower is orders of magnitude smaller than the risk to the real estate market carried per mortgage borrower. We can also assume that most borrowers tend to hold onto their vehicles above all else when things get tough, since it is required to get to work, get groceries, etc."
View Comments and Join the Discussion!
Posted-In: Alec Gutierrez automotive automotive industry Credit Ratings Dennis Carlson Kelley Blue BookTravel General Best of Benzinga