These Companies Could Scoop Up Digital Ally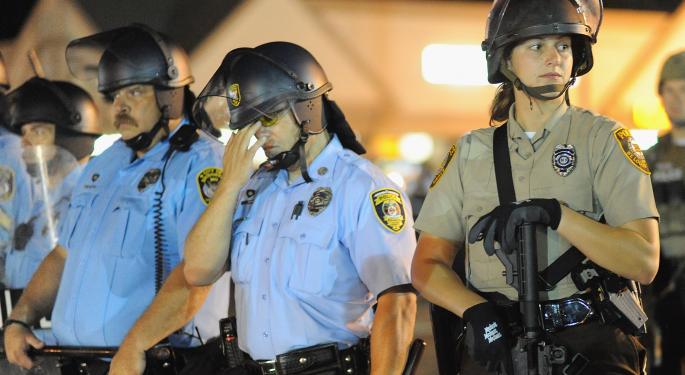 Digital Ally (NASDAQ: DGLY) CEO Stanton Ross recently stated the company has received buyout offers in addition to interest in its wearble cameras.
The company makes products such as body-mounted video systems used by police departments and security agencies.
The talk, along with the ongoing media circus initiated by the recent police shooting in Ferguson, Missouri, generated a flurry of buying activity and the stock, which had been in a free-fall over the past year. It is suddenly up 360 percent over the course of the last five trading days.
A couple of companies might be interested in acquiring Digital Ally, which has a relatively tiny market cap of $36 million.
Related Link: What These 5 Defense Contractors Are Spending To Lobby Congress
Taser International (NASDAQ: TASR)
The much bigger Taser, with a market cap of $838 million and $137 million in annual revenue, might step up to the plate to expand its product lineup beyond body cameras, stun guns and military equipment. Digital Ally also offers other law enforcement products such as flashlights and speed guns.
Taser's stock has also received a boost from many police department inquiries to equip its officers with video.
L-3 Communications (NYSE: LLL)
An even bigger company, a pioneer in the police dashboard camera industry, L-3 Communications, might also be interested in Digital Ally. However since L-3 dwarfs Digital Ally, with its $9.4 billion market cap and annual sales of $12.6 billion, a deal probably wouldn't move the needle all that much for L-3.
If an acquisition occurs, it might have to wait until L-3 resolves problems associated with a defense procurement scandal. This issue eventually led to an $84 million charge against earnings, but so far has not resulted in a freeze on bidding on future Pentagon contracts. The stock suffered a precipitous 17 percent drop on the news.
The market for one of Digital Ally's main products, law enforcement body-mounted cameras, has been in high demand. Any deal is likely to enrich investors of the relatively tiny Digital Ally.
Posted-In: digital ally Ferguson l-3 communications TASERMovers & Shakers Topics Economics General Best of Benzinga
View Comments and Join the Discussion!