How Oil Has Made ISIL The Richest Terrorist Group In History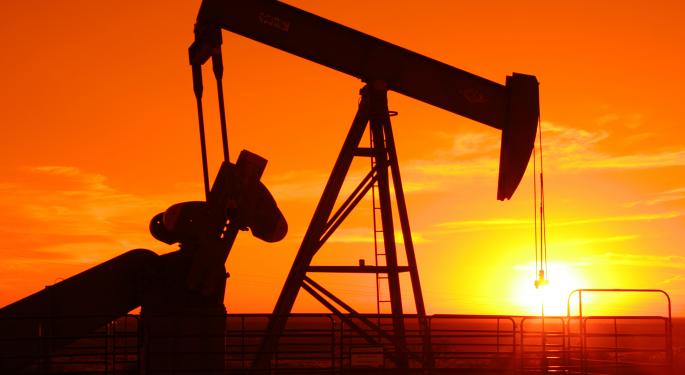 Citing U.S. intelligence officials, Bloomberg reported Tuesday that the Islamic State ISIL could be raising more than $2 million a day –- much of it from oil sales.
The oil comes from seven oil fields and two refineries in northern Iraq, which ISIS controls, along with six out of 10 oil fields in eastern Syria.
Islamic State
Hamzei Analytics founder, Fari Hamzei told Benzinga that this oil-based revenue stream represented much more than money for the Islamic State.
"A 'State,'" Hamzei said, "means being organized and able to operate a vast bureaucracy with income generation, policing, taxing, water, power and various social services."
According to Hamzei, thanks, in part, to stolen oil, "ISIL is slowly getting there in their own way, albeit very brutally."
Discount Oil
The terrorist group that beheaded American photojournalist, James Foley, sells the crude at between $25 and $60 a barrel, undercutting world market prices (which hover around $100 a barrel).
Oil sales and other forms of local revenue ISIS collects are less vulnerable to sanctions, legal action and diplomatic efforts, making the income not only significant, but also relatively safe.
Related Link: #PreMarket Prep Guest List For The Week Of August 25, 2014
Actions Taken So Far
Bloomberg reported that Robin Mills of Dubai-based Manaar Energy Consulting and Project Management said authorities have been cracking down on oil smuggling into the Kurdish region. This forces ISIL to use more oil locally, resulting in shrinking revenues.
U.S. military launched airstrikes in Iraq have also provided some help. In addition, efforts to deplete the Islamic State's cash reserves by targeting distribution networks, strengthening anti-money laundering laws, and an overall improvement in financial intelligence have had an impact.
A Need For Boots On The Ground
Given the fact insurgents booby-trap roads and utilize other ground level tactics that are difficult for airstrikes to address, Hamzei sees few solutions that do not include a "boots on the ground" option.
He said the best solution was to have around-the-clock precision airstrikes plus boots on the ground.
Hamzei does not advocate U.S. combat forces returning to Iraq and in fact said it is actually advisable the U.S. not put troops there, other than Joint Special Operations Command forces.
Sanctions And Drones
Sanctions against those who do business with ISIL are another tactic Hamzei recommended. Since ISIL generates so much of its revenue locally, acting against those states that cooperate with the terrorists is the next best option.
Finally, Hamzei said, "I would also take out a few of their oil tanker trucks (they do not control pipelines yet) via Predator drones with Hellfire missiles. No driver will sign-up for that duty again."
Related Link: 3 Companies Poised To Profit From Mexican Energy Reforms
Impact on World Oil Prices
Hamzei told Benzinga he saw little impact on the world oil market from ISIL's actions.
"ISIL volume is too small," he said, noting that ISIL's bargain basement prices would provide some relief for some buyers of energy, but would not be disruptive to world oil markets as a whole.
At the time of this writing, Jim Probasco had no position in any mentioned securities.
View Comments and Join the Discussion!
Posted-In: Benzinga Bloomberg comments Fari Hamzei Hamzei AnalyticsCommodities Topics General Best of Benzinga