Benzinga's M&A Chatter for Tuesday August 26, 2014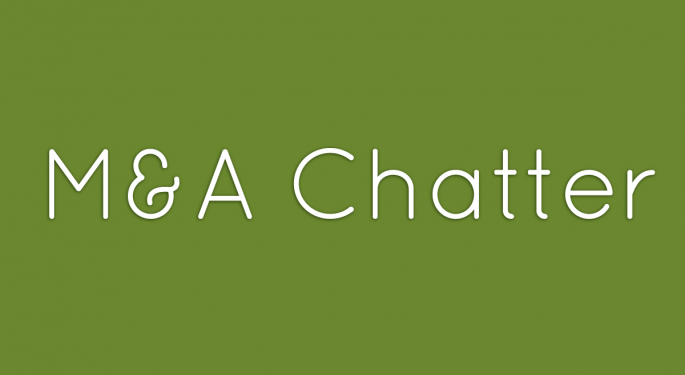 The following are the M&A deals, rumors and chatter circulating on Wall Street for Tuesday August 26, 2014:
Ann, Inc. Reportedly Exploring Potential Sale
The Rumor:
Shares of Ann, Inc. (NYSE: ANN), the parent of retailer Ann Taylor, surged higher Tuesday, on a report from Reuters that it had hired JPMorgan Chase to consider strategic alternatives, including a potential sale.
Spokespersons for Ann and JPMorgan declined comment on the report.
Ann, Inc. closed Tuesday at $41.87, a gain of almost 5%.
Jupiter Offers $8.00/Share for Alteva
The Offer:
Shares of Alteva (NYSE: ALTV) spiked higher late Tuesday, following an offer from Jupiter Investment, to acquire the cloud-based communications company for $8.00 per share in cash. Altera reported a 6.2% stake in Alteva as of August 26.
Jupiter made the offer in a letter to Alteva's Board of Directors.
Alteva closed Tuesday at $6.88, a gain of 30%.
Medtronic Acquires Sapiens Steering Brain Stimulation for ~$200M in Cash
The Deal:
Medtronic (NYSE: MDT) announced Tuesday, that it has acquired Sapiens Steering Brain Stimulation for approximately $200 million in cash.
The transaction does not impact Medtronic's FY 2015 earnings guidance.
Medtronic closed Tuesday at $63.52, a loss of $0.11.
View Comments and Join the Discussion!