Benzinga's M&A Chatter for Thursday August 21, 2014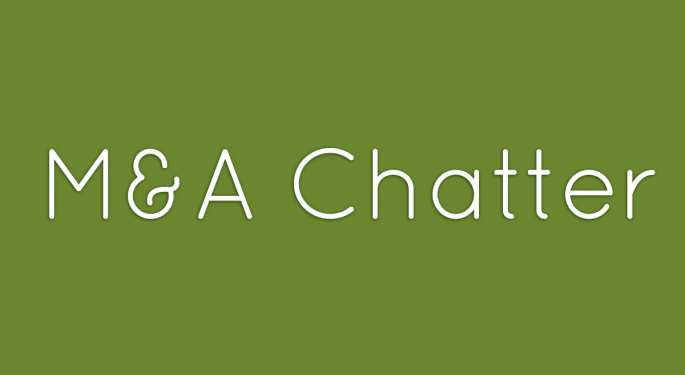 The following are the M&A deals, rumors and chatter circulating on Wall Street for Thursday August 21, 2014:
Rumor of Possible Verizon Bid for Gogo
The Rumor:
Shares of in-flight Internet company, Gogo (NASDAQ: GOGO), rose early Thursday on a report from Runway Girl Network that Verizon (NYSE: VZ) could be interested in a potential partnership, joint venture or perhaps an acquisition.
Spokespersons for Verizon and Gogo declined comment on the rumor.
Gogo shares closed at $17.75 Thursday, a gain of 47%.
Dollar General Reaffirms Commitment to Buy Family Dollar
The Affirmation:Dollar General (NYSE: DG) CEO Rick Dreiling reaffirmed the company's commitment to acquire Family Dollar (NYSE: FDO) in a statement Thursday. Dreiling said "We are disappointed that the Family Dollar Board of Directors has concluded that our proposal is not reasonably expected to lead to a superior proposal without informing itself of all relevant information. We have done extensive antitrust analysis using experienced advisers, the results of which confirm that the transaction as proposed is capable of being completed. We remain willing to share this analysis with Family Dollar and its counsel and are confident that we will be able to quickly and efficiently resolve any potential antitrust issues."
Dreiling said the company was "carefully reviewing and considering our options. Our existing all-cash proposal coupled with manageable antitrust issues continues to make our proposal superior to the current transaction agreement with Dollar Tree (NASDAQ: DLTR)."
Dollar Tree (NASDAQ: DLTR) offered $74.50 per share in cash and stock for Family Dollar on July 28. Dollar General countered with an all-cash offer of $78.50 per share in cash on August 18.
That offer was rejected by Family Dollar's Board.
Dollar General closed Thursday at $63.61, a loss of $0.15, while Family Dollar lost $0.40, to close at $79.41.
ScanSource Executes LOI to Acquire Imago Group
The Offer:
ScanSource (NASDAQ: SCSC) announced Thursday, the execution of a non-binding letter of intent to acquire distributor of video and voice communications equipment and services, Imago Group plc, ScanSource will be acquiring Imago's operations in the UK, France and Germany. The all-cash deal includes an initial purchase price of approximately $41 million, plus earnout payments over the next two years.
The proposed acquisition is expected to close in the quarter ending September 30, 2014.
ScanSource closed Thursday at $39.26, a gain of 2.5%.
Posted-In: News Rumors Management M&A Movers
View Comments and Join the Discussion!