Shake Shack IPO Hopes To Ride Fast Casual Coattails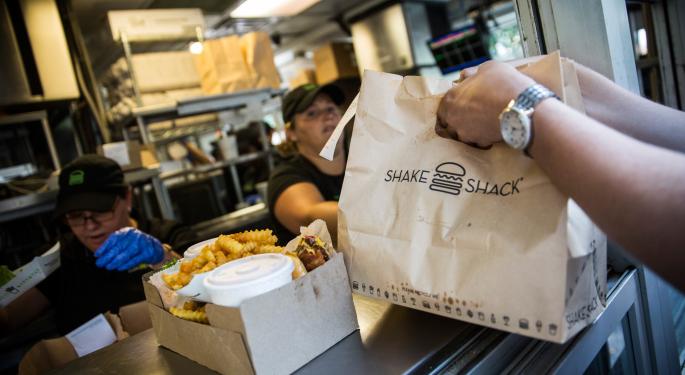 Fast casual restaurant chain Shake Shack recently tapped JP Morgan and Morgan Stanley to underwrite its IPO.
The news comes on the heels of three other restaurant offerings this year: Zoe's Kitchen (NYSE: ZOES), Papa Murphy's Pizza (NASDAQ: FRSH) and El Pollo LoCo (NASDAQ: LOCO).
Danny Meyer's Union Square Hospitality Group started Shake Shack at Madison Square Park in 2004. According to the company's website, "This modern day "roadside" burger stand serves up the most delicious burgers, hot dogs, frozen custard, beer, wine, and more."
Related Link: Spin-Offs: Why Do Companies Do It, And What They Might Mean To Your Portfolio
Shake Shack is willing to try new things and listen to its customers. Last August, the company switched from its frozen crinkle-cut fries to favor a fresh-cut skinny fry. The switch didn't sit well with customers who appreciated the comfort food they had grown to love.
CEO Randy Garutti earlier this month wrote, "We didn't fully appreciate the simple, tactile pleasure and emotion attachment our fans have to the crispness, the ridges, and pure joy that these fries bring to guests of all ages."
While preparing for its IPO, the company is making the switch back to its famous crinkle cuts, but this time without any unnecessary artificial ingredients.
Shake Shack is growing and operates locations in New York, Pennsylvania, Florida, Washington D.C., New Jersey, Connecticut and Massachusetts. International locations include London, Istanbul, Moscow, Beirut and Dubai.
The company appears to make its customers happy. Will shareholders feel the same way?
Quick Facts About Fast Casual IPOs
Zoe's Kitchen priced its IPO at $15 and opened for trading April 11 at $25.65. Sales have more than tripled since 2008, from $32 million to $116 million in 2013. 2014 is setting up to be no different -- analysts expect the company to see sales of nearly $170 million. Zoe's Kitchen closed August 21 at $30.51, a 25 percent gain from its IPO.
Papa Murphy's is a fresh food pizza chain that priced 5.8 million shares for $11 on May 1. The company is poised for a healthy 2014, despite its struggle to return shareholder value like Zoe's Kitchen.
Analysts expect 18 percent sales growth over 2013 and a jump into the black. In 2013, Papa realized a net income of -$2.5 million and the expectation for 2014 is +$3.2 million. Shares are down more than 20 percent from its IPO.
El Pollo LoCo opened for trading on July 25, pricing its 8.2 million share IPO at $15. Like Zoe's Kitchen, El Pollo Loco took the market by storm opening at $18.48 on its first day of trading. Within six trading days, the stock hit an intraday high of $41.70, a 178 percent return from its IPO price.
The company is growing sales more modestly at an eight percent rate. Analysts expect the bottom line for 2014 to be a gain of $16.2 million, as opposed to last year's $16.9 million loss.
There is no IPO information for Shake Shack relating to number of shares, pricing, proceeds or ticker symbol. Reuters believes the IPO could open for trading as early as this year.
Disclosure: The author holds a long position in Zoe's Kitchen. He has no positions or interests in any other mentioned securities.
View Comments and Join the Discussion!
Posted-In: IPO Shake ShackRestaurants Success Stories General Best of Benzinga