Gartner: Consumer 3D Printing More Than Five Years Away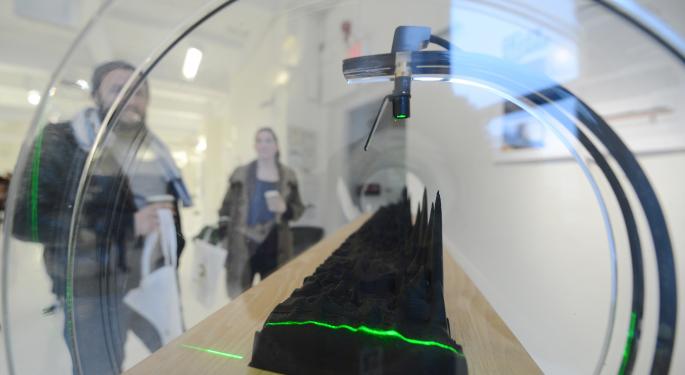 A recent report from Gartner saysthat although 3D printing is rapidly gaining acceptance, widespread consumer use is more than five years away.
Gartner research vice president Pete Basiliere said in a statement that consumer 3D printing is around five to 10 years away from mainstream adoption.
"Today, approximately 40 manufacturers sell the 3D printers most commonly used in businesses, and over 200 startups worldwide are developing and selling consumer-oriented 3D printers, priced from just a few hundred dollars.
"However, even this price is too high for mainstream consumers at this time, despite broad awareness of the technology and considerable media interest," Basiliere added.
Related: 3D Printing Enters The Retail Space At Home Depot
Enterprise And Medical
More immediately, Gartner said, over the next two to five years, business and medical 3D printing applications will have the greatest impact, mostly because of the fact that those sectors would have more compelling use cases in the short term.
Prototypes
One area of 3D printing that has shown itself to be useful to businesses is prototyping. Using 3D printing to create real-life prototypes and models quickly and cheaply has been a mainstay of the industry since its inception.
"3D prototyping enables organizations to reduce or mitigate the risks associated with the design, form and functionality of products in research and development programs," Basiliere said.
Medical
Likewise, the use of 3D printing technology in the making of medical devices, including prosthetics and implants, has shown great promise and has been getting attention.
Gartner said the two- to five-year time frame for growth in enterprise 3D printing also applies to the medical field.
For example, researchers at Louisiana Tech University have used consumer-grade 3D printers to fabricate custom medical implants that can deliver antibacterial drugs or even chemotherapy to patients.
Related: 5 Of The Coolest 3D Printing Prototypes In 2014
Consumer Price Not Low Enough
Despite the fact leading manufacturers and startups have been working to develop low-cost 3D printers for the anticipated consumer market, prices are still not low enough, according to Gartner.
Stratasys (NASDAQ: SSYS) sells its MakerBot printers at several retail outlets including Microsoft (NASDAQ: MSFT) retail stores and select Home Depot (NYSE: HD) stores in a few states.
Home Depot lists the MakerBot mini for $1,375 and the Replicator Desktop model for $2,899.
The $1,299 3D Systems' (NYSE: DDD) Cube is currently available at Staples (NASDAQ: SPLS) for $999.
At the time of this writing, Jim Probasco had no position in any mentioned securities.
Posted-In: 3D 3D Systems Cube home depot Makerbot Microsoft ReplicatorTech Best of Benzinga
View Comments and Join the Discussion!