4 Auto Companies Benefiting From Mexico's Free Trade Agreements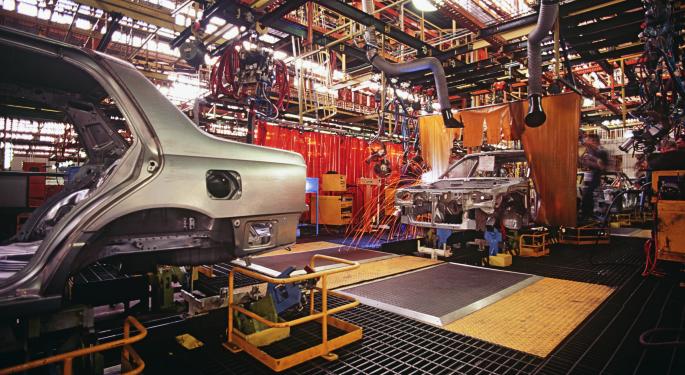 There's a good chance your next new vehicle will be manufactured in Mexico.
As a new article in Forbes notes, the Mexican government in recent years has secured free trade deals with 44 countries --- compared with only 20 such agreements between the U.S and other nations.
That means about 80 percent of the cars built in Mexico end up in other countries; around two-thirds of them are exported to the United States.
Mexico's Global Positioning
"I can export duty free to North America, South America, Europe and Japan," Thomas Karig, vice president of corporate affairs for Volkswagen of Mexico, told the magazine. "There's not another country in the world where you can do that."
Related Link: 4 Auto Parts Suppliers Interested In M&A
Given such company-friendly conditions, Forbes says, there's been a "flood" of new investment –- to the tune of $19 billion –- by the big multinational auto-makers into Mexico. Production rates have also doubled over the last five years, to a projected 3.2 million vehicles this year.
"Mexico has successfully positioned itself to support automotive production," Karl Brauer, a senior analyst for Kelley Blue Book, tells Benzinga.
"Its geography allows for easy shipment across the globe," he added, "and now its location advantage is combined with excellent economic factors like low-cost labor and free trade agreements. Every global automaker considers Mexico a key part of current and future production plans."
Here are some of the car companies benefiting or expected to benefit from Mexico's liberal trade policies.
Honda (NYSE: HMC)
Brauer notes the Japanese automaker has invested nearly $1 billion into a massive, state-of-the-art assembly plant in the central Mexican city of Celaya, where, according to Automotive News, the company will build its 2015 Fit subcompact hatchback and a crossover variant.
The website says the Celaya plant will produce around 200,000 units annually, "and will boost Honda's annual North American production capacity to 1.92 million units -- representing (the majority of) all Honda and Acura vehicles now sold in North America."
Renault-Nissan (OTC: NSANY) and Daimler (OTC: DDAIF)
This past June, as part of their alliance, France's Renault and Japan's Nissan announced plans to invest with German automaker Daimler one billion euros, or about $1.4 billion, into a plant in Aguascalientes, Mexico, about 300 miles north of Mexico City. The plant will become part of Nissan's already-existing production facility there.
The 50-50 joint venture will reportedly work toward the development of next-generation compact vehicles for both Mercedes-Benz and Infiniti. Production of Infiniti models is expected to begin at the new plant in 2017, with Mercedes-Benz brand vehicles commencing roll-out a year later. And by the time the facility is at full production speed, sometime in 2021, it is expected to have an annual production capacity of 300,000 vehicles.
Ford (NYSE: F)
Several years ago, Ford completed a $1.3 billion investment in its Hermosillo stamping and assembly plant, in the Mexican state of Sonora, where it builds the Ford Fusion hybrid and the Lincoln MKZ midsize sedans.
What's interesting, notes KBB's Brauer, is that Ford shifted some production of the Fusion back to its Michigan plant last year, after U.S. labor costs lowered coming out of recent UAW contract negotiations.
But Ford is the exception to the rule, he adds, "as most European and Japanese automakers are rapidly expanding automotive production in Mexico." And the operations at the Ford Hermosillo plant continue.
View Comments and Join the Discussion!
Posted-In: automotive automotive industry automotive production commentsTravel Global Trading Ideas General Best of Benzinga