Benzinga's Weekend M&A Chatter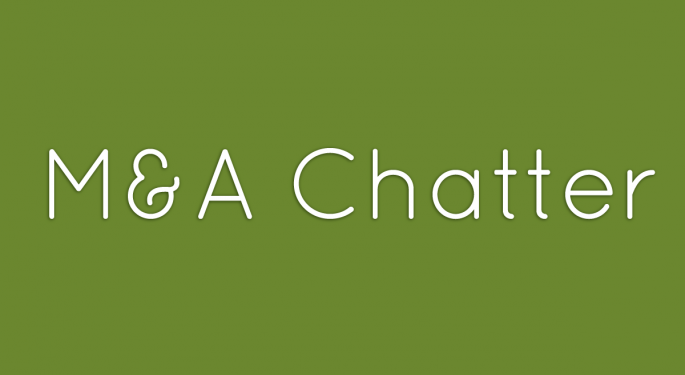 The following are the M&A deals, rumors and chatter circulating on Wall Street for Friday August 15 through Sunday August 17, 2014:
Google Acquires Jetpac; Terms Not Disclosed
The Deal:
Jetpac metioned on its website on Friday, it is being acquired by Google (NASDAQ: GOOGL). Terms were not disclosed.
Jetpac said they will be removing their apps from the App Store in the coming days, and ending support for them on September 15.
Google closed at $583.71 Friday, a loss of $0.94.
SMTP to Acquire GraphicMail And SharpSpring
The Deal:SMTP (NASDAQ: SMTP) announced Friday, it has entered into two separate agreements to acquire GraphicMail for $5.2 million in equal amounts of cash and stock, and SharpSpring for $5 million in cash and a $10 million earn-out, which is tied to achieving aggressive growth targets.
The SharpSpring deal is expected to close before the end of August 2014 and the GraphicMail transaction before the end of December 2014.
SMTP closed Friday at $6.40, a gain of 2.5%.
NGL Energy Partners, Transmontaigne Partners Terminate Talks, Will Not Reach Deal on Price at This Time
The Termination:
NGL Energy Partners (NYSE: NGL) and TransMontaigne Partners (NYSE: TLP) announced Friday, that the Conflicts Committee of TransMontaigne's Board of Directors and NGL have terminated discussions regarding NGL's non-binding proposal of July 10, 2014, to acquire the outstanding common units of TLP in an all-stock transaction.
The parties concluded they will not be able to reach an agreement on the price to be offered to TLP unitholders at this time.
NGL Energy Partners closed Friday at $42.21, while Transmontaigne Partners ended the day at $43.03, a gain of $.23.
ScanSource to Acquire Network1 for $70M Plus Earnout Payments
The Deal:
ScanSource (NASDAQ: SCSC) announced Friday, it will acquire Brazil's value-added distributor of communications equipment and services, Network1, for an initial purchase price of approximately R$160 million (approximately US$70 million), plus earnout payments based on EBITDA over the next four years.
The deal is expected to close by the end of 2014.
ScanSource closed Friday at $37.90, a gain of 1%.
View Comments and Join the Discussion!