Has Athletic Wear Replaced Denim?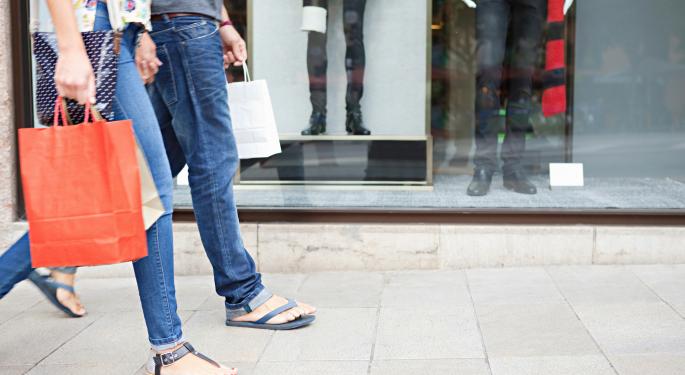 While fashion fads continue to come and go, one fad appears to be picking up momentum: Jeans are no longer cool.
According to a report by CBS San Francisco, total jeans sales in the United States are down six percent year to year, following a growth of denim over the past decade.
Say It Ain't So
The report echoes comments from V.F. (NYSE: VFC) parent company of Lee Jeans, 7 For All Mankind and other brands that sell jeans.
"Global revenues for the Jeanswear coalition were down one percent, reflecting improvement over the first quarter, the result of a slightly better than our expectations," Scott Baxter, vice president of jeanswear at V.F., told investors during the company's June second quarter conference call.
Related Link: 'Talented Blonde' Kristin Bentz Talks Nike's Puppeteer, The Retail Apocalypse & Experiential Luxury
V.F. saw a four percent revenue decline in jeans in the first quarter.
In fact, during the recent quarter, V.F. took downtime in its jeans factories, a decision the company made to avoid markdowns. As a result, the jeanswear business in the Americas was down to a low single-digit rate because of "continued challenges in the U.S. mid-tier channel and the ongoing unfavorable women's denim trend."
This doesn't surprise Kristin Bentz, president of Talented Blonde LLC, an advisory firm focusing on the consumer and retail industry.
"I believe there was such a surge in denim brands in the last 10 years that they are less important from a brand perspective," Bentz told Benzinga in an e-mail interview. "I walked in the 7 [For All Mankind] store this week and it was a ghost town."
Brian Sozzi of Belus Capital Advisers shares a similar view. Sozzi told Benzinga that the denim category is "boring, offering consumers generally nothing that they already don't have in their closet."
Sozzi believes that consumers are still shopping for clothes -- just not jeans.
"What the consumer is doing today is taking that $40 for a pair of jeans and buying two to three shirts from H&M, giving them three new outfits for three days of the week," he said.
Jeans Out… Yoga Pants In?
In a note to clients on August 12, Eric Beder of Wunderlich Securities stated:
"In 2012, colored denim was the key fashion trend for the teen segment; in addition, colored denim necessitated a shift to brighter and patterned tops, driving traffic to the stores for new outfits, especially in the women's segment (while still a key piece of the story, men's has been less affected by fashion trends). That said, unlike in prior periods, when overwhelming fashion trends lasted for multiple years, in 2013, colored denim was replaced by athletic-driven jeggings and leggings-driven looks and overall teen women's fashion trends became diffused, which has remained the case in 2014."
Women appear to be buying more athletic apparel and less jeans. Bentz, however, slighty disagrees.
"I think the yoga thing has jumped the shark personally. When The Gap (NYSE: GPS) launched Athleta it was done," said Bentz. "And it's not just women –- men are really coming into their own in terms of 'Athliesure' eschewing denim for the new 'Man sweat Pant' or 'Jogger,' which is really becoming a phenomena.
"I believe both women and men are starting to adopt a less denim-centric wardrobe."
Bentz points to the success of companies like New Standard Edition, whose part-sweat pant, part-tailored pants are big sellers.
Related Link: A Closer Look At Kinder Morgan's Epic Transformation
Will The Women's Market Takeover The Men's?
It may be a surprise to some that Kevin Plank, founder and CEO of Under Armour (NYSE: UA), hinted during the company's second quarter conference call that its women's division can be as large, if not bigger, than its men's division.
Bentz isn't surprised and said it is definitely possible as denim becomes less occasional.
"I believe they really could have owned the Womens Atheltic wear business pre Lululemon (NASDAQ: LULU) but chose not to focus on Womens at the time," Bentz stated. "Now Under Armour wants to own the business. They definitely have the chops when it comes to technical strength -– we'll have to see if they have the fashion."
Bentz also said that Under Armour, along with Oakley, made the "big mistake" of historically focusing on men.
Sozzi agreed and thinks the logic behind such a theory is simple: "If you think about it, women shop more than men, and if Under Armour continues to add fashion to its athleticwear as it has been doing, plus open stand-alone stores globally, it's very possible."
Posted-In: 7 For All Mankind Athleticwear Brian Sozzi comments DenimMovers & Shakers Retail Sales General Best of Benzinga
View Comments and Join the Discussion!