Benzinga's M&A Chatter for Tuesday August 12, 2014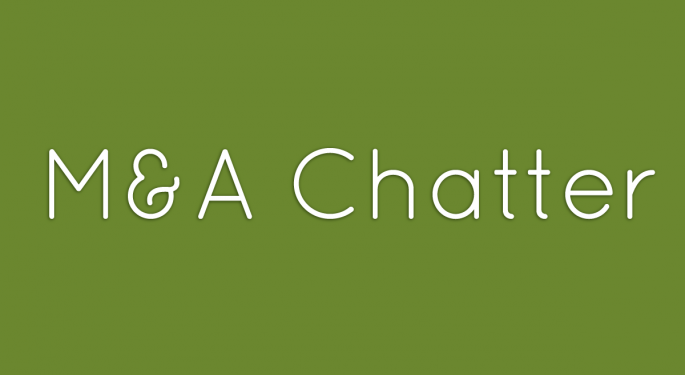 The following are the M&A deals, rumors and chatter circulating on Wall Street for Tuesday August 12, 2014:
Needham Says 'Highly Likely' Stryker Will Acquire Smith & Nephew
The Analyst Note:
Shares of Smith & Nephew (NYSE: SNN) moved higher early Tuesday, on a note from Needham's Michael Matson, who said an acquisition by Stryker (NYSE: SYK) is highly probable. Financial Times reported on May 28, that Stryker was preparing a bid for Smith & Nephew. Stryker responded to the report stating, it did not intend to make an offer, but reserved the right to make one in six months.
Smith & Nephew shares closed Tuesday at $13.10, a gain of 30%.
Tiptree Financial to Acquire Fortegra Financial for $10.00/Share in Cash
The Deal:
Tiptree Financial (NASDAQ: TIPT) and Fortegra Financial (NYSE: FRF) announced Tuesday, the signing of a merger agreement, under which Tiptree will acquire Fortegra for $10.00 per share in cash in a transaction valued at approximately $218 million. Tiptree and Fortegra expect to complete the deal in late 2014 or early 2015.
Fortegra Financial closed at $9.87 Tuesday, a gain of 40%, while Tiptree shares lost more than 2%, to close at $7.05.
FleetCor to Acquire Comdata for $3.45B
The Deal:
Electronic payment solutions provider Comdata, announced Tuesday that its parent company, Ceridian LLC, a portfolio company of funds affiliated with Thomas H. Lee Partners and Fidelity National Financial (NYSE: FNF), has entered into an agreement to sell Comdata to FleetCor Technologies (NYSE: FLT) for approximately $3.45 billion. The deal includes approximately $2.4 billion in cash, plus approximately 7.3 million shares of FleetCor common stock.
The deal is expected to close in 2014.
FleetCor Technologies closed Tuesday at $129.44, a loss of 1.5%.
View Comments and Join the Discussion!