3 Ways Google & Amazon Are Infiltrating The Defense Sector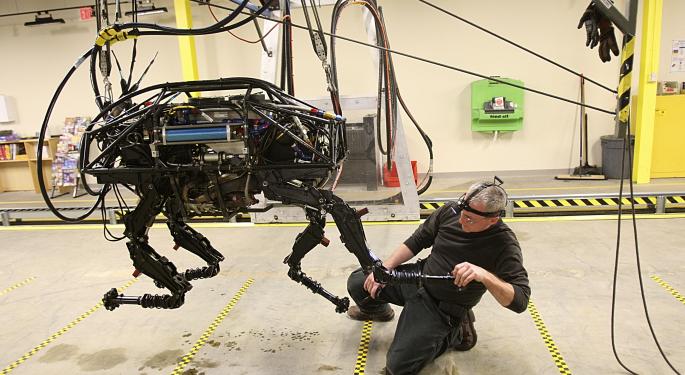 It's a story about not just old versus new industries, but also about new technologies creating new opportunities.
In a recent interview with the Federal Times, Marillyn Hewson, chairman, president and CEO at Lockheed Martin (NYSE: LMT), acknowledged her company was contending with new and stepped-up competition for government contracts from companies not usually associated with the defense industry, including tech giants like Google (NASDAQ: GOOG) and Amazon (NASDAQ: AMZN).
"We welcome competition," she told the website. "There is always competition. We disrupt our own sales, frankly. We often have things going on in our technology labs and our advanced laboratories that, over time, bring new capability."
Related: 3 Energy Sectors That Would Benefit From Planned Carbon Emission Reductions
It does appear that Amazon and Google, with their very flexible, innovative and adaptive business models, are finding ways to pressure Lockheed Martin and the other old-school defense firms.
Here's a trio of examples:
Up In The Cloud-Based Technology
This past spring, during its first quarter earnings report, Amazon announced that all four of its Amazon Web Services (AWS) regions in the U.S. had been given provisional authorization from the Pentagon –- which "simplifies and speeds the process for DoD (Department of Defense) agencies to evaluate and adopt AWS, allowing more DoD agencies to use AWS's secure, compliant infrastructure."
According to the website Defense One, which monitors national security and defense issues, Amazon's cloud-based technology -– if it works as officials have envisioned –- "will usher in a new era of cooperation and coordination, allowing agencies to share information and services much more easily and avoid the kind of intelligence gaps that preceded the Sept. 11, 2001, terrorist attacks."
Big Dog and other robot projects
Google's move into robotics, meanwhile, appears to create a natural fit with the Pentagon's futuristic battlefield plans. Just last year, Google acquired Boston Dynamics as one of eight robotics companies it swept up over a six-month period.
Boston Dynamics became a viral internet sensation several years ago, when it released video of its Big Dog robot being put through its cargo-carrying paces. The funding for most of the company's robot projects had come from the U.S. military, including the U.S. Defense Advanced Research Projects Agency (DARPA), the organization that helped midwife the birth of the Internet.
Space Plane and beyond
According to a recent article in The Daily Beast, DARPA is also seeking out help from Amazon founder Jeff Bezos and Sir Richard Branson, owner of the Virgin Group and the privately-funded Virgin Galactic commercial spaceflight venture, to develop a cheap space plane that would make the launching of new satellites faster and more cost-efficient.
Don't forget that Bezos founded Blue Origin, a private spaceflight company, in 2000. That company is currently working on a variety of orbital and suborbital launch systems. And according to a Blue Origin official, Bezos has invested about $500 million to the firm and its plans.
View Comments and Join the Discussion!
Posted-In: Boston Dynamics Cloud-Based Technology DARPAPolitics Movers Tech Media General Best of Benzinga