4 Consumer Staples Stocks Trading Higher This Quarter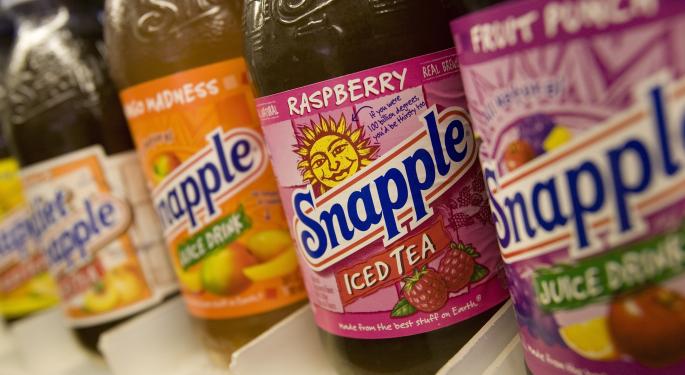 The Consumer Staples Select ETF (NYSE: XLP) has been underperforming the Dow Jones, NASDAQ and S&P 500 indexes for the most part since the beginning of May. It shouldn't surprise investors, as some of the most recognizable names in the group have had issues.
Coca-Cola (NYSE: KO) continues to disappoint investors with its margins prompting Wintergreen Advisors to create FixBigSoda.com. Wintergreen Advisors' main points were that Coca-Cola's margins have been "stuck at 26 percent for the past three years" and that North American sales have been declining.
Wal-Mart (NYSE: WMT) continues to pile on excuses for its poor quarterly results, including bad weather, reduction in customer food stamp benefits and increasing competition.
If Coca-Cola and Wal-Mart are no longer safe investments within the consumer staples sector, then what is? Or better yet, what stocks are actually trading higher today than they were three months ago?
Archer Daniels Midland
Shares of Archer Daniels Midland Company (NYSE: ADM) are up around 10 percent since the beginning of May.
On August 5, the company reported strong second quarter results because of ethanol and corn sweeteners that exceeded expectations, while oilseeds margins improved and agriculture services turned around after a poor start to the year.
Archer Daniels earned $0.77 per share, beating the consensus estimate of $0.73 and crushing the $0.46 per share the company earned a year ago.
Archer Daniels is solidly performing while industry conditions are moving in a positive direction for all of the company's segments. Specifically, two consecutive large crops will create conditions for a robust agricultural service, while lower corn prices will help support higher ethanol margins. Also, lower crop prices will help benefit Archer Daniel's oilseed operations.
Dr Pepper Snapple
For those feeling a bit nostalgic, Snapple used to run a commercial with the slogan "We want to be number three." This was an obvious reference to Snapple holding the third-largest beverage spot after the behemoths Coca-Cola and Pepsi (NYSE: PEP).
Today, shareholders of Dr Pepper Snapple (NYSE: DPS) are getting the last laugh, as shares of Dr Pepper Snapple have been outperforming both Coca-Cola and Pepsi on the three months chart. In fact, Dr Pepper Snapple is absolutely crushing it for long-term investors, as shares have risen nearly 140 percent on a five-year timeframe versus an approximate 60 percent return for both Coca-Cola and Pepsi.
For shareholders, owning "number three" has been great.
So what's Dr Pepper Snapple's secret?
Dr Pepper Snapple does things a bit differently, which appears to be working. For example, the company has recently stated it plans to shy away from advertising at a time when Coca-Cola and Pepsi are allocating record amounts to supporting its brands.
Related: 3 Ways Google & Amazong Are Infiltrating The Defense Sector
The company's second quarter results on July 24 confirm that doing things a bit differently is working.
Dr Pepper Snapple reported a revenue growth of 1.2 percent in the quarter to $1.63 billion, outpacing Pepsi's 0.5 percent revenue growth and Coca-Cola's declining growth.
While revenue never paints a full picture, Dr Pepper Snapple reported its income from operations rose 22 percent to $348 million from a year ago, and earnings per share rose 39 percent from a year ago to $1.06.
Dr Pepper Snapple raised its full-year fiscal 2014 guidance and sees its earnings per share in a range of $3.43 to $3.51. Meanwhile, Coca-Cola guided toward a "net unfavorable impact of two cents to comparable earnings per share" in its recent quarterly result.
Granted, Pepsi guided for an eight percent core constant currency earnings per share growth, above its previous target of seven percent. Investors should first consider the one-month, three-month, six-month, one-year and five-year chart to determine the better investment.
Sometimes, number three can beat number one and number two.
Costco
While shares of Costco (NASDAQ: COST) are not even up 3 percent today relative to a month ago, any company that has demonstrated an ability to weather the challenging geo-political climate is worthy of every investor's attention.
Weathering the storm is exactly what Costco is doing.
On Thursday, Costco announced its July same-store sales rose 5 percent, and total July sales rose 9 percent to $8.55 billion. While impressive on its own, it does lag June sales that grew 10 percent one year to $10.89 billion.
Costco has one of the best business models around, combining value for the customers who in return show loyalty to the company, and this was evident in its third quarter conference call when revenue of $25.79 billion topped analyst expectations by $30 million.
Costco's earnings per share of $1.07 fell short of analyst expectations by two cents, as the company saw its expenses and investments in technology rise faster than anticipated. As Costco's investments in its information technology and systems are peaking and should begin to taper off in 2015, investors should have plenty of confidence in the company's ability to fuel earnings per share growth over many years to come.
Costco appears to have one of the best advantages in not only in the consumer staples space, but it is one of the very few, if not the only company, that is insulated from the e-commerce threat.
Costco's extreme value and bulk size creates a level of insulation from online retailers to the point where the convenience of ordering online isn't even comparable to what Costco offers its customers.
Don't worry about the "millennial risk," either. Costco has done a great job in expanding its offerings to include trendy organic products and partnered with coupon sites to attract the next generation of Costco shoppers for years to come.
Altria
When Altria Group (NYSE: MO) reported its second quarter results on July 22, the company fell short of what analysts were expecting on both earnings per share and revenue. After all, the surge in popularity of vapor products as an alternative to traditional cigarettes has been a tailwind for the entire tobacco industry, even though Altria Group sells its MarkTen e-vapor products in more than 60,000 stores.
Altria Group noted that its smokeable products revenue rose 0.8 percent from a year ago to $4 billion, only because of the fact that higher prices offset a 4.8 percent drop in shipment volume.
Altria Group has the benefit of being the only tobacco company that is trading higher now than it was three months ago. Shares of Philip Morris (NYSE: PM) and Reynolds American (NYSE: RAI) are trading lower, while shares of Vector Group (NYSE: VGR) are barely in the green for the three-month period.
Related: Will Investing In Water Be The Next Big Thing?
Even shares of Lorillard (NYSE: LO) are trading lower after the company was acquired by Reynolds American. Shares of Lorillard traded at a 52-week high of $67.46 in late May, but shares have since given back nearly $7 as Lorillard failed to receive the premium in the Reynolds American buyout that many expected.
Investors may have found some confidence in Altria Group after the company raised its fiscal 2014 earnings per share guidance to a range of $2.54 to $2.59 from a previous $2.52 to $2.59. Also announced was a new $1 billion buyback program to replace the current program, which only had $53 million remaining.
Altria Group is a leader within the tobacco industry with its scale and premium brand offerings, including Marlboro. This fact, coupled with an active share buyback program and investments in the rapidly growing e-vap category should yield investor confidence in this tobacco stock.
Posted-In: altria group Archer Daniels Coca-cola consumer staples CostcoMovers & Shakers Trading Ideas General Best of Benzinga
View Comments and Join the Discussion!