Benzinga's M&A Chatter for Thursday August 7, 2014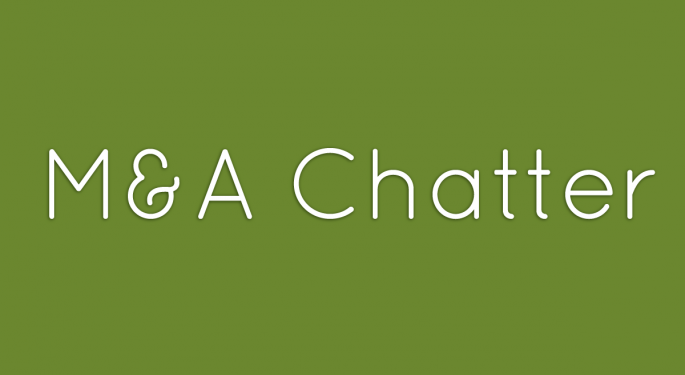 The following are the M&A deals, rumors and chatter circulating on Wall Street for Thursday August 7, 2014:
Facebook to Acquire PrivateCore
The Deal:
Facebook (NASDAQ: FB) announced Thursday, it is acquiring PrivateCore, which helps protect computers and data centers that power Internet services. Financial terms were not disclosed.
Facebook closed Thursday at $73.17, a gain of 1%.
Report Telecom Italia Seeking Alliance with Vivendi
The Rumor:
Shares of Telecom Italia (NYSE: TI) rose to near $11.00 Thursday morning, following a report from Bloomberg that the firm was seeking an alliance with France's Vivendi (OTC: VIVHY). According to sources, Telecom Italia's CEO and Vivendi's Chairman had discussions.
Spokespersons for Vivendi and Telecom Italia declined to comment.
Telecom Italia closed at $10.72 Thursday, a gain of $0.01 on 6 times average volume.
Report Freeport-McMoRan Considers Sale of Onshore California Oil Wells
The Rumor:
Freeport-McMoRan (NYSE: FCX) is reportedly considering a sale of its onshore oil wells in California, in a deal that could be worth as much as $5 billion, according to a report from Reuters. Sources say Freeport is contacting potential buyers, which may include PE firms and oil companies.
A Freeport spokesperson declined comment on the rumor.
Freeport-McMoRan shares closed Thursday at $36.15, a loss of 1.5%.
Post Holdings Acquires American Blanching for $128M
The Deal:
Post Holdings (NYSE: POST) announced Thursday, it has signed a stock purchase agreement to acquire American Blanching Company for $128 million. The transaction is expected to be completed in Q1 of FY 2015.
Post Holdings closed Thursday at $44.51, a loss of $0.77.
Ellie Mae to Acquire AllRegs for $30M in Cash
The Deal:
Ellie Mae (NYSE: ELLI) announced Thursday, that it is acquiring information provider for the mortgage industry, AllRegs, for $30.0 million in cash. The deal is expected to close within 90 days.
Ellie Mae closed Thursday at $33.49, a loss of 3%.
View Comments and Join the Discussion!