Top 5 Food Store Chain Expansions For 2014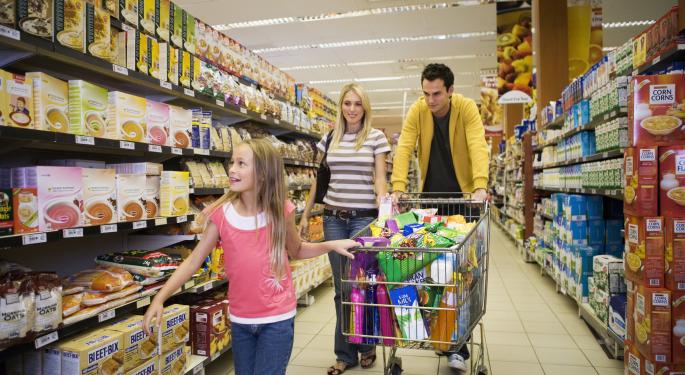 The way consumers buy groceries is changing.
According to the 2014 Deloitte American Pantry Study, cross-channel shopping for groceries is becoming the norm.
The definition of "grocery store" has evolved.
That fact rings true when examining expansion plans among the top five food retailers, realizing that two are mass merchandisers, one is a wholesale membership club and only two are traditional supermarket chains.
Wal-Mart
The top food retailer in the U.S. and Canada isn't a traditional grocery store. It's Wal-Mart (NYSE: WMT), which announced in February that it planned to expand its U.S. small-store format openings in 2014.
Related Link: 5 Companies That Just Might Object To 3D Printed Food
Wal-Mart U.S. President and CEO Bill Simon said, "Customers appreciate the broad assortment of our supercenters for their stock-up trips as well as our small store formats for fill-in trips."
The company, as a result, said it would add about 300 small stores during the fiscal year -- double the number of small stores originally forecast.
Kroger
Kroger (NYSE: KR), number two in food retail, has about 2,400 stores and is one of only two genuine grocery chains in the top five.
Kroger's expansion plans for 2014, announced in March, included entering one new (unannounced) market. Chief Financial Officer J. Michael Schlotman said the company would not reveal the new segment in part because "the cost of land always seems to go up if they know we're looking."
Another area of interest for Kroger is acquisitions. Schlotman said, "We've been happy picking up assets [when stores] become available in markets where we currently operate, and those have been very beneficial for us."
Costco
Warehouse membership club Costco (NASDAQ: COST) ranked number three among food retailers with 539 stores and said it planned to add 18 more in 2014.
Costco has another issue to address: millennials. Namely, the fact that the largest generation in American history isn't attracted to the bulk purchase business model espoused by Costco.
In a Q&A session with analysts, CFO Richard Galanti said the company would be adding more organic foods and ramping up online sales, in addition to other tactics designed to attract millennials to the Costco fold.
Target
The second of two mass-merchandisers among the top five food retailers in the U.S. and Canada, Target (NYSE: TGT) ranks number four. The company's expansion plans for 2014 included the addition of nine new store locations in Canada, growing the number of Target stores in Canada to 133.
Target's 2014 U.S. plans included 10 new stores and 12 closures for a net loss of two stores this year.
Related Link: Sozzi Warns Investors To Be Worried About Target
Albertsons
Albertsons technically ranks number 10 among food retailers, but with the pending acquisition of Safeway (ranked number five), it stands to move up as soon as regulators approve the merger.
Clearly, Albersons' expansion plans for 2014 are mostly about acquisition. As part of the deal, Safeway shareholders would receive total value of about $40 per share.
According to the Los Angeles Times, the merger will result in a network of more than 2,000 stores, 27 distribution facilities and 20 manufacturing plants. Safeway currently has 1,330 stores, and Albertsons has more than 600.
At the time of this writing, Jim Probasco had no position in any mentioned securities.
View Comments and Join the Discussion!
Posted-In: Bill Simon Costco grocery shopping Kroger retail Richard GalantiTopics General Best of Benzinga