Benzinga's M&A Chatter for Tuesday August 5, 2014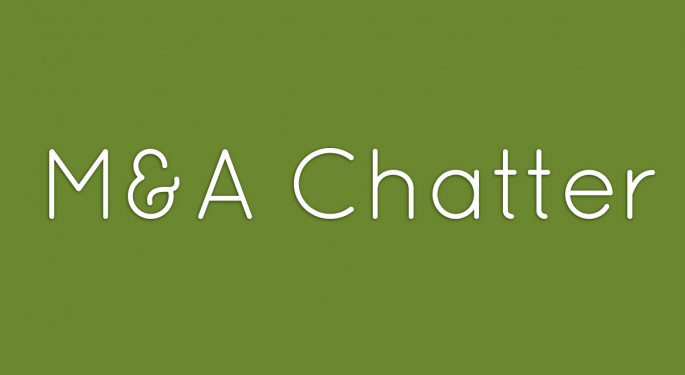 The following are the M&A deals, rumors and chatter circulating on Wall Street for Tuesday August 5, 2014:
Fox Withdraws Bid for Time Warner
The Withdrawl:
21st Century Fox (NASDAQ: FOXA, FOX) announced Tuesday that it has withdrawn its offer to acquire Time Warner (NYSE: TWX). Fox's Chairman and CEO Rupert Murdoch cited Time Warner management and its Board's refusal to engage in talks regarding the offer, and Fox's share price, which had declined since the proposal was made, as reasons for the withdrawal of the proposal.
Time Warner acknowledged the announcement by 21st Century Fox that it has withdrawn its acquisition proposal.
Shares of Time Warner closed Tuesday at $85.19, and traded as low as $72.85 after hours. Shares of 21st Century Fox closed at $31.30, and tradeds as high as $31.27 after-hours.
Report Walgreen to Acquire Remaining 55% Stake in Alliance Boots
The Rumor:
Shares of Walgreen (NYSE: WAG) spiked lower Tuesday, on a report from Sky News the drug retailer would acquire the remaining 55% of UK pharmacy chain Alliance Boots it does not already own, for around £5B. As part of the announcement, Walgreen reportedly will disclose it intends to remain a US-domiciled company.
Walgreen and Boots declined comment on the report.
Walgreen closed Tuesday at $69.12, a loss of 4%.
Report Iliad in Talks with Dish, Others on Joint Bid for T-Mobile; Sprint Reportedly Drops Out
The Rumor:
Shares of T-Mobile (NYSE: TMUS) spiked higher Tuesday, on a report from Reuters that France's Iliad, which announced a $15 billion proposal to acquire the number 4 U.S. mobile carrier on July 31, reportedly is in talks with Dish Network (NASDAQ: DISH), pension funds and sovereign wealth funds to put together a joint bid. That report followed an earlier report from Financial Times, that T-Mobile was about to reject Iliad's original bid of $15 billion.
A spokesperson for Dish Network declined comment on the report. An Iliad spokesperson was not available for comment.
Late Tuesday, Wall Street Journal reported that Sprint (NYSE: S) was abandoning its efforts to acquire T-Mobile, citing regulatory issues. A report from Bloomberg said Sprint would announce a replacement for CEO Dan Hesse on Wednesday.
T-Mobile shares closed Tuesday at $33.91, and traded under $31.00 after-hours. Dish Network shares, which had traded as high as $63.94 on the report, closed at $62.15, a loss of $0.28. Sprint closed at $7.28 Tuesday and traded near $6.00 after-hours.
Posted-In: News Rumors Management M&A Movers
View Comments and Join the Discussion!