Tyba Wants To Be The Airbnb of Recruiting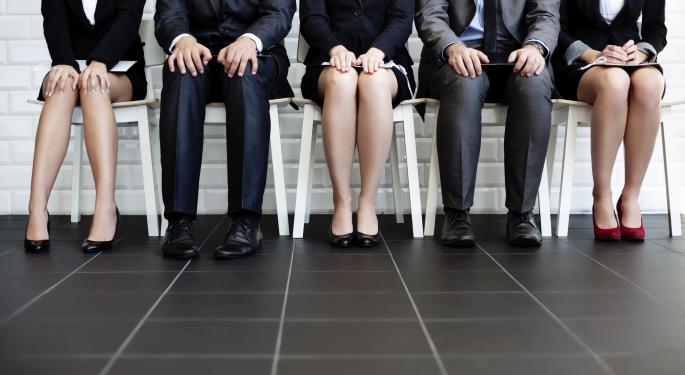 After deciding to launch a company, Eiso Kant learned a troubling truth: Recruitment hasn't changed much in 10 years.
"The status quo is job sites like Monster.com, where you have a horrible product experience for a company where you get hundreds of applicants but few that are actually relevant," Kant, the managing director and co-founder of Tyba, told Benzinga. "Talent finds itself lost in a sea of different opportunities and can't find any that match them, and when they do, they have no clue what the company is about."
Kant founded Tyba to solve this problem. He and his co-founders -- and the eventual team they brought together -- wanted to build a site that was all about recruitment.
"We really think the experience should be so good for a young person coming on our platform, so smooth and seamless for a company coming on it, that it is as easy as renting an apartment on Airbnb today," said Kant.
Related Link: Apple Could Destroy This Startup In One Move
Getting Started
Tyba differs from other recruiting sites (both old and new) by personally visiting and profiling individual companies.
"In the last four months, we physically visited [more than 250 different companies] with a professional photographer to profile all of them," said Kant. "Between now and the end of the year, there will be 1,000 companies that we've personally visited in Europe and created these profiles around."
Kant believes that this gives job seekers a much better experience for evaluating where they want to work.
"[Tyba is] a product where, within 60 seconds of coming in, a young person in Europe sees opportunities that match with their preferences and keep on getting better and better recommended jobs as you give us more information," he explained.
Tyba is free for job seekers, but employers will have to pay to gain access to new talent. They can initially benefit from a number of freebies (Tyba will visit and profile all approved companies for free). When a company finds a desirable candidate, it pays Tyba (€30 for interns, €150 for full-time employees) to view that person's contact information.
Regional rates haven't been announced, but Tyba expects to charge a similar fee when it comes to the United States.
All Aboard?
Most recruiting sites will take any company that wants to join. Tyba is a bit more selective.
The firm starts by visiting a new location (such as Paris, Tyba's next destination). Tyba takes a good look at the startups in that city and critiques them. Kant compared this process to the way that a venture fund might judge a number of startups before making an investment.
Tyba is not looking to invest, however. It simply wants to work with the best companies.
"We look at how companies are growing, we look at what their culture is," said Kant. "If we see that they fit in that environment as a cool, sexy place to work, and has a startup atmosphere, then we go to them."
That includes companies like Dropbox, which may still embody elements of a startup without actually being one.
Not Hiring? No Problem!
If Tyba likes a startup, it will profile the company even if it is not actively recruiting.
"All of these companies we put on the platform even if they're not hiring today, and even if they're not using us today," said Kant. "We see that many of them end up using us for recruitment, the vast majority. But if not, then it's okay."
When Tyba enters a new city, the company attempts to capture as much of the ecosystem as possible. There are risks associated with this strategy, but the payoff could be huge.
"Some companies will be growing a lot and hiring via us, and some others may not exist in half a year," said Kant. He also said that some companies may decide not to use Tyba at all.
"But the reality of the industry is that everyone is having a very hard time hiring, and they're usually happy to use us," Kant concluded.
Disclosure: At the time of this writing, Louis Bedigian had no position in the equities mentioned in this report.
Posted-In: Airbnb Eiso Kant Monster.com TybaStartups Tech Interview Best of Benzinga
View Comments and Join the Discussion!