6 Major Retailers Starting Back-To-School Campaigns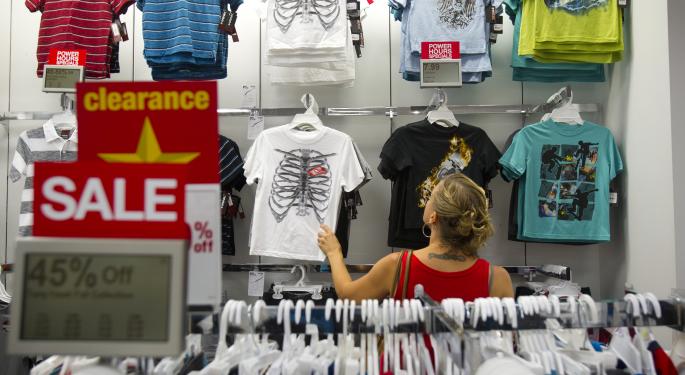 It may still be summer, but as far as retailers are concerned, it's time to get ready to go back to school.
Retailers already gearing up include Apple (NASDAQ: AAPL), Wal-Mart (NYSE: WMT), Disney (NYSE: DIS), Kohl's (NYSE: KSS), Target (NYSE: TGT) and J.C. Penney (NYSE: JCP).
Ahead Of The Fireworks
Apple launched its back-to-school effort July 1, well before the July 4 holiday. For the promotion, students buying a Mac receive a $100 Apple Store Gift Card. An iPhone or iPad purchase nets a $50 gift card.
Related Link: Ebates.com Survey: Back to School Means Back to Stress for Parents and Kids
According to Time, Wal-Mart had a back-to-school Web page up in June, and Target posted a college registry program designed to encourage family and friends to make back-to-school gift buys.
Meanwhile, Disney and Kohl's just announced a marketing partnership featuring "mix & match" clothing under the "D-signed" brand inspired by Disney Channel shows and expected to be a big seller among the back-to-school crowd.
J.C. Penney is diving full bore into social media by inviting customers to create unique emojis and post them next to their "selfies" in an online gallery called "Express Yourselfie."
The Reason For The Rush
Although the total amount spent on back-to-school and back-to-college shopping this year was expected to be down 11 percent from last year ($74.9 billion versus $84 billion), the total still makes it the second biggest shopping season of the year.
According to the National Retail Federation's 2014 back-to-school survey, the average family with K-12 students will spend $669.28 this year. That's an increase of five percent more than last year. The average family with college students will spend $916.48, up 10 percent from 2013.
Shoppers Not Convinced
According to the NRF, despite ramped-up efforts on the part of businesses, roughly 33 percent of shoppers will hold off back-to-school shopping until at least two weeks before school starts.
Last year about 27 percent waited until the same period to begin their shopping.
With 46.2 percent of shoppers saying they planned to shop for sales more often because of the economy, many are likely holding out for last-minute discounts on back-to-school supplies.
Tweens & Teens Lead The Way
No matter how back-to-school shopping shakes out this year, retailers have noted (witness the Disney/Kohl's pairing) that tweens and their older brothers and sisters take back-to-school shopping seriously.
According to the NRF, kids want to ensure they have a say in their parents' buying choices. Teens plan to spend $913 million of their own money on school items. The average teenager (ages 13-17) plan to spend $34.40; the average pre-teen said they will spend $22.27, making the total for that age group almost $544 million.
At the time of this writing, Jim Probasco had no position in any mentioned securities.
Posted-In: Apple Apple Store Back to School disney Disney ChannelRetail Sales Topics General Best of Benzinga
View Comments and Join the Discussion!