Auto Leasing Rates Back At Pre-Recession Levels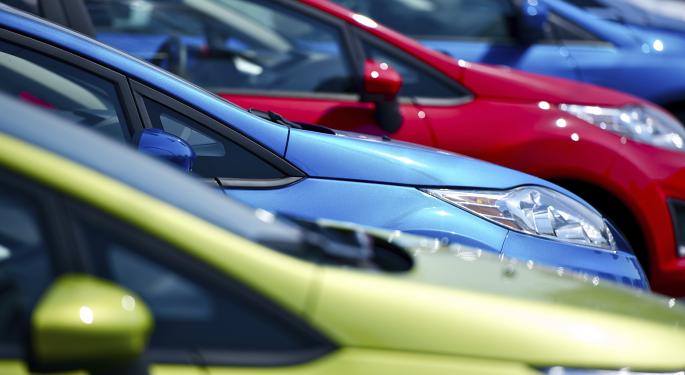 Auto leasing, once considered the realm of status-conscious drivers and people who need a new ride every three or so years, is making a comeback among U.S. consumers.
Bloomberg News, quoting data from Edmunds.com, says leases have so far accounted for nearly 28 percent of this year's new auto sales. That rise in leasing has also been helping overall U.S. auto sales figures, which are reportedly projected to have their biggest year since 2007, before the great recession.
Industry analysts, meanwhile, expect auto leasing to remain an attractive option for people at least partway into 2015 –- thanks in part to historically-low interest rates and strong used-car prices –- which mean leased vehicles are holding on to their value once they're returned.
Related Link: Are Fiat And Volkswagen Actually Talking Merger?
There's also the appeal, for some drivers, of having the latest car with the latest bells and whistles, including the newest auto-friendly smartphone technology.
While leasing continues to grow in popularity, "we could see the momentum slow down next year," cautions Alec Gutierrez, a senior analyst for Kelley Blue Book (KBB), in an email to Benzinga.
"There is some risk that used car values could begin to slip next year as additional off lease volume drives up supply at wholesale auctions," he notes. "Additionally, there is speculation that the Fed could raise interest rates should unemployment continue to trend down as the economy improves."
For the time being, however, leasing continues to be a popular trend. According to Kelley Blue Book, models from Honda (NYSE: HMC), Ford (NYSE: F) and Toyota (NYSE: TM) currently lead the pack of the most desired leased cars.
According to KBB, 38.6 percent of all Civics sold in the first four months of this year, along with 31.5 percent of CR-Vs and 27.2 percent of Accords, were leased. The Ford Escape SUV also proved popular with people preferring leased vehicles, with a 37.2 percent leasing rate among new cars, followed by Toyota's Camry (24.2 percent).
Posted-In: Alec Gutierrez automotive car values carsTravel Economics Success Stories General Best of Benzinga
View Comments and Join the Discussion!