Blake Griffin Loves This Kickstarter Campaign - Will You?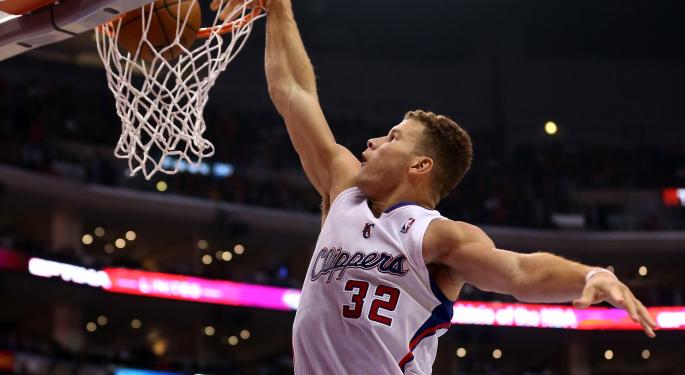 Los Angeles Clippers forward Blake Griffin was one of the first athletes to test out the Vyper, a new product on Kickstarter. He quickly became a fan of the training tool, which was created by Hyperice.
"As an athlete, I am always looking for the best tools and technology to help keep my body healthy," Griffin wrote on the product's Kickstarter page. "The Vyper prepares my body for training and helps my muscles recover after games. It is an essential part of my routine and enables my body to perform at the highest level through the grind of a long season."
The Vyper was created after Hyperice founder Anthony Katz had an idea: What if vibration could be added to a foam roller?
Athletes already used foam rollers to loosen their muscles. Katz found that they also used vibrating platforms to activate their nervous system and to prepare the body to be stretched. This works well, but it forces the vibration to go through the athlete's feet. Katz hoped that his concept would allow people to target specific areas of the body.
Related Link: 5 Kickstarter Campaigns That Are Better Than Potato Salad
Serendipity
Katz told Benzinga that he had a "big breakthrough" when he met with executives at Blackroll, a German company that produces an air-injected polypropylene material. Katz said that this material is different from the typical EVA foam (which absorbs vibration) that is used in other foam rollers. With Blackroll, Hyperice was able to develop a foam roller that was both light and stiff -- and allowed the vibration to transmit through the material.
"I was lucky that I found the only company in the world that has the patent on this process," said Katz.
Hyperice is no stranger to product development. The company's first product (which was also called Hyperice) was very popular with professional athletes.
"I could literally build one and send one to LeBron James and get his feedback," Katz said of his products. "If you have a really great product, it finds its way to those guys. Those guys put the premium on their body more than anybody."
Going To Kickstarter
Hyperice has currently raised more than $46,000 on Kickstarter. The company hopes to meet its goal of $100,000 by the time the campaign ends on August 30.
"The reason why we need it is because we are a small company," said Katz. "Just because we work with some of the biggest athletes in the world doesn't change the fact that we're a small company with a handful of employees. We don't have mass distribution. Our first product, it's pretty expensive and it's mostly sold to professional teams. We're not handling big box retailers. We basically do well enough to pay our employees and kind of make it to this point.
"We're kind of a boutique company. We are a highly innovative boutique company."
Disclosure: At the time of this writing, Louis Bedigian had no position in the equities mentioned in this report.
View Comments and Join the Discussion!
Posted-In: Anthony Katz Blake Griffin comments Hyperice KickstarterEntrepreneurship Success Stories Tech Best of Benzinga