Benzinga's Weekend M&A Chatter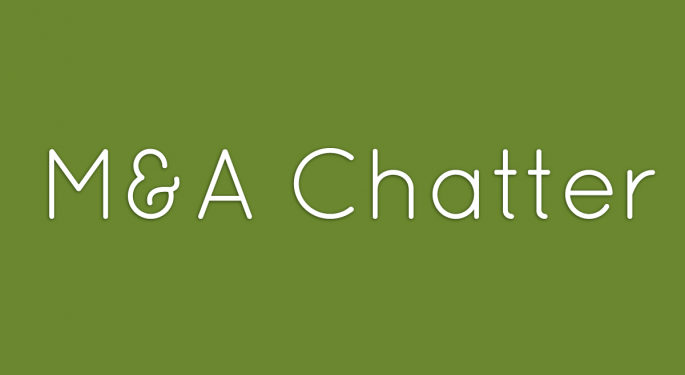 The following are the M&A deals, rumors and chatter circulating on Wall Street for Friday July 18, 2014 through Sunday July 20, 2014:
AbbVie to Acquire Shire for £24.44 in Cash and 0.8960 New AbbVie Shares
The Deal:
The Boards of AbbVie (NYSE: ABBV) and Shire (NASDAQ: SHPG) announced Friday, that they have agreed on a merger of Shire with AbbVie, under which Shire shareholders will be entitled to receive £24.44 in cash and 0.8960 New AbbVie Shares for each Shire share, or £52.48 per Shire share based on AbbVie's closing share price of $53.52 on 17 July 2014.
The transaction is expected to be completed in Q4 of 2014.
Shire closed Friday at $257.06, a gain of 1.5%, while AbbVie closed 2.5% higher, at $54.91.
Report Algonquin Power Has Made Three Takeover Approaches to Gas Natural
The Rumor:
Shares of Gas Natural (NYSE: EGAS), surged higher just before the close Friday, on a report from Dow Jones that Algonquin Power & Utilities has approached the natural-gas distributor regarding a take over three times this year, according to Dow Jones. Algonquin Power & Utilities acquired a 4.9% stake in Gas Natural in April, and has an interest in an acquisition, according to sources.
Gas Natural closed Friday at $11.13, a gain of 6.5%, and traded over $12.00 after-hours.
Hearing JMP Says Marketo Could be Takeover Target
The Analyst Note:
Shares of Marketo (NASDAQ: MKTO) traded higher Friday, on a note from JMP Securities that the marketing software company might be a good acquisition for SAP (NYSE: SAP).
Marketo shares closed Friday at $25.83, a gain of 3.5%.
Tsinghua Unigroup Closes Acquisition of RDA Microelectronics for $18.50/ADS
The Closing:
Tsinghua Unigroup, a subsidiary of Tsinghua Holdings, and RDA Microelectronics (NYSE: RDA) announced Friday, the closing of the approximately $907 million merger of RDA Microelectronics with an affiliate of Tsinghua Unigroup. Under the terms of the merger agreement, each of the company's ordinary shares are cancelled in exchange for the right to receive $3.083333 per Ordinary Share, or $18.50 per ADS.
RDA Microelectronics shares closed Friday at $18.45, a gain of 3.5%.
View Comments and Join the Discussion!