Will Trupanion's New Pet Insurance IPO Succeed?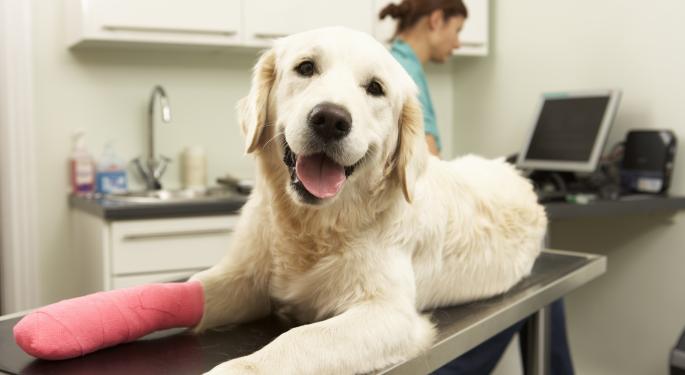 These days, healthcare is a huge concern -- for both humans and their pets.
Getting quality care can be a struggle, and getting quality care at an affordable price seems like a distant dream. The headlines are littered with "Obamacare this" and "Obamacare that." Along with our own health, however, humans are increasingly worrying about their four-legged friends.
Trupanion (NYSE: TRUP) is a pet medical insurance company that offers a simple insurance policy to protect your pets.
Making Pet Insurance Easy
For humans, buying insurance can be a nightmare. There are a multitude of providers, each with various plans that have different benefits, deductibles and premiums. Trupanion is making pet insurance simple and easy to understand by offering a comprehensive one-size-fits-all solution for pets.
Related: 9 IPOs To Watch For This Week
To offer peace of mind, the premium for a policy is determined at the time of enrollment and is fixed for the life of the policy. The only adjustment that can be made is to reflect changes in average veterinary costs for a local area.
"We will never raise your rates simply because your pet has a birthday," says the company's website. If your pet needs medical attention, Trupanion covers 90 percent of actual veterinary costs with no payout limits.
Better Than Human Coverage?
Your pet's insurance might be better than your own. According to the Trupanion website, its policy covers "surgeries, diagnostic tests, medications, treatments and hospital stays." Under the company's simple policy, it can't penalize for filing claims, either. It says, "We don't believe in penalizing unlucky pets."
Trupanion believes it has an exciting opportunity in the pet health space. The American Pet Products Association estimates that $58.5 billion will be spent on pets in 2014 and $15.3 billion on veterinary care, resulting in a 66 percent increase from 2006's $9.2 billion. This increase is largely because of the increase in medical advancements for the feline community.
Risks And Possible Rewards
The company believes some of its major risks going forward are based on its ability to retain and grow its subscriber base, an ability to make payments on its outstanding debt and an ability to move its net profit from red to black.
From 2011 to 2013, the company has grown its subscriber base from 88,707 pets to 169,570, a 91 percent increase. The increase has resulted in revenue growth of 107 percent from $37 million to almost $77 million by the end of 2013.
The first quarter of 2014 looks phenomenal compared to the first quarter of 2013, with revenues increasing to $23 million from $17 million.
Unfortunately, the company has been unable to find a way to have the growth flow down to a positive net profit figure. From 2011 to the year ending 2013, Trupanion's net loss grew from negative $3.9 million to negative $8.2 million.
The company is underwritten by RBC Capital, Barclays and Stifel. It assumes proceeds of about $89.4 million of its 7.125 million share prices at $14, the midpoint of its $13-$15 range.
Proceeds will then be used to increase its financial flexibility and create marketplace visibility. Trupanion also intends to use $12 million to repay principal on a $29 million term loan. It will also repay a $3 million term loan with Square 1 Bank.
Sizing Up The Competition
Trupanion faces potential market headwinds once it opens for trading. VCA Antech (NASDAQ: WOOF), operator of animal hospitals, labs and medical technology, is outperforming the market this year, up 16 percent year-to-date.
Other pet-related companies like PetSmart (NASDAQ: PETM) and PetMed Express (NASDAQ: PETS) have not experienced the same results, grossly underperforming the S&P 500. PetMed Express, provider of prescription and non-prescription pet medications, has lost 20 percent of its value year-to-date, while PetSmart is down five percent.
Look for Trupanion to price and open for trading on July 18th.
Disclosure: The author holds no positions in the mentioned securities at the time of this writing.
Posted-In: Animal Husbandry cats dogs healthcareNews Health Care IPOs General Best of Benzinga
View Comments and Join the Discussion!