3D Printing Enters The Retail Space At Home Depot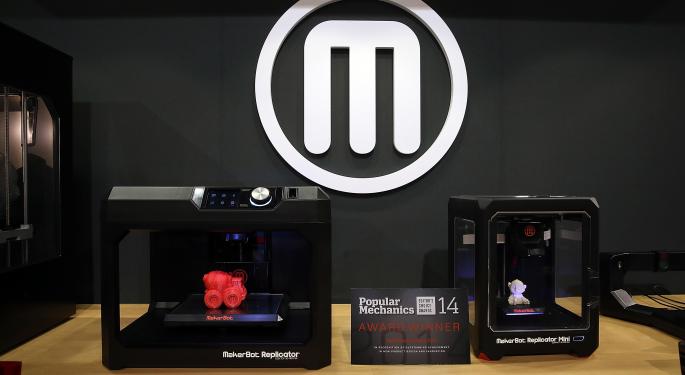 The announcement Monday that Stratasys' (NASDAQ: SSYS) MakerBot and Home Depot (NYSE: HD) would collaborate to begin stocking 12 Home Depot stores with MakerBot Replicator Desktop 3D Printers raises the obvious question, "Who's next?"
The 3D DIY Connection
According to the announcement, MakerBot 3D Printing and Scanning products would be housed in special kiosks in selected Home Depot stores where MakerBot staff would provide demonstrations and answer questions. MakerBot 3D printers would also be available for order online.
Related Link: 3D Printing Stocks Moving After Jefferies Action
MakerBot and Home Depot hope shoppers such as builders, architects, designers and DIY customers would see the benefit of using 3D printing technology to create replacement parts, prototypes and other items.
Bre Pettis, MakerBot CEO said, "Imagine a world where you can 3D print replacement parts and use 3D printing as an integral part of design and building work. Every day we see the magic of 3D printing becoming a reality with our customers; now The Home Depot can also see that magic. We can't wait to see what The Home Depot customers make with our products."
Why Now?
IBISWorld analyst Jocelyn Phillips told Bloomberg, "As the home-improvement field faces increased competition from specialist retailers and e-commerce, new technology will become a more important way for stores to differentiate themselves."
With home improvement industry sales expected to grow 1.7 percent annually through 2019, versus 2.6 percent over the past five years, the need to attract a larger segment of the consumer market would continue to grow.
Seth Basham, analyst for Wedbush Morgan Securities, added that an aging U.S. population would decrease the number of homeowners over the next 10 years and put even more pressure on retailers.
Other Potential Retail Players
Now that Home Depot has joined Amazon, Microsoft and Dell in stocking 3D printers, will number two home improvement retailer Lowe's (NYSE: LOW) join the game? What about Sears (NASDAQ: SHLD)?
Sears actually does sell MakerBot printers and supplies online, but the products are not available in stores and store pickup is not an option.
The potential 3D printer market is significant. Canalys analyst Tim Shepherd told Bloomberg, "Ten years from now, it will be quite common for people to have 3-D printers in their homes."
According to Kenneth Wong of Citigroup, the consumer market for 3-D printing would approach $600 million by 2017.
3DLT last year suggested Home Depot offer 3D printing services in stores and online so customers could print hard to find or produce items on demand.
The website also suggested that Lowe's, Menard, Ace and True Value, to name a few, could beat Home Depot to the punch and offer sales or services to increase foot traffic at the very least.
At the time of this writing, Jim Probasco had no position in any mentioned securities.
Posted-In: Amazon Bloomberg Canalys Citigroup DELL home depotTopics General Best of Benzinga
View Comments and Join the Discussion!