Benzinga's M&A Chatter for Tuesday July 15, 2014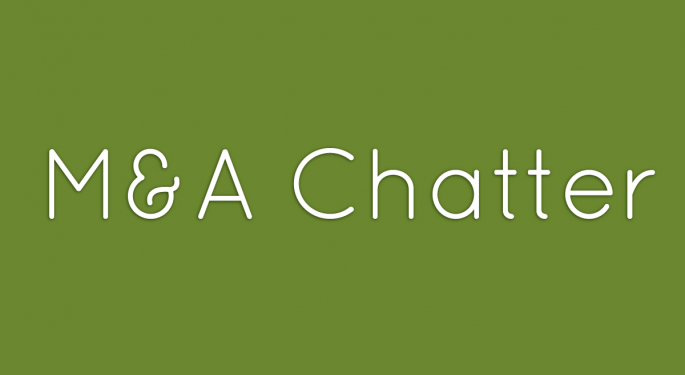 The following are the M&A deals, rumors and chatter circulating on Wall Street for Tuesday July 15, 2014:
Softbank Putting Together $45B Financing Package for Sprint, T-Mobile Deal
The Rumor:
Softbank (OTC: SFTBY) is putting together a $45 billion financing package to finance Sprint's (NYSE: S) purchase of T-Mobile (NYSE: TMUS), according to sources as reported by the Wall Street Journal. $10 billion is reportedly to be used by the companies to bid on spectrum in an auction to take place in 2015, reports people familiar with the matter.
Sprint and T-Mobile have reportedly been in merger talks for awhile. Investor John Paulson, who owns the third largest stake in Sprint and the fourth largest in T-Mobile, said a merger of the two would be good for consumers. Paulson feels Sprint acquiring T-Mobile in the high $30's to low $40's per share, would be "reasonable".
Sprint shares closed Tuesday at $8.11 a loss of almost 4%, while T-Mobile shares lost almost 3%, to close at $32.10.
Reynolds American to Acquire Lorillard for $68.88/Share in Cash, Stock
The Deal:
Reynolds American (NYSE: RAI) and Lorillard (LO) announced Tuesday, that Reynolds has agreed to acquire Lorillard in a cash-and-stock transaction valued at $68.88 per Lorillard share, for a total of $27.4 billion, including the assumption of net debt. Lorillard shareholders will receive $50.50 in cash and 0.2909 shares of RAI stock at closing, based on RAI's closing share price on Monday.
Reynolds also announced that Imperial Tobacco (OTC: ITYBY) has agreed to purchase the KOOL, Salem, Winston, Maverick and blu eCigs brands and other assets and liabilities for $7.1 billion in cash. Imperial will also acquire certain assets owned by Lorillard including its manufacturing and R&D facilities in Greensboro, N.C., and approximately 2,900 employees, including a national sales force, contingent upon RAI's completion of the acquisition of Lorillard.
The deal is expected to close in H1 of 2015.
Lorillard shares closed Tuesday at $60.17, a loss of more than 10%. Reynolds American shares lost almost 7%, to close at $58.84
Albemarle to Acquire Rockwood for Approximately $6.2B in Cash, Stock Deal
The Deal:
Albemarle Corp. (NYSE: ALB) and Rockwood Holdings (NYSE: ROC) announced Tuesday, that Albemarle will acquire all outstanding shares of Rockwood in a cash and stock transaction valued at approximately $6.2 billion. Each outstanding share of Rockwood common stock will be exchanged for $50.65 in cash and 0.4803 shares of Albemarle common stock, or $85.53 per share, based on Monday's closing stock prices.
The deal is expected to close in Q1 of 2015.
Rockwood Holdings shares closed Tuesday at $83.14, a gain of almost 10%, while Albemarle shares lost 3.5% to close at $70.03.
Realogy to Acquire ZipRealty for $6.75/Share in Cash
The Deal:
Realogy Holdings (NYSE: RLGY) and ZipRealty (NASDAQ: ZIPR) announced Tuesday, that Realogy will acquire ZipRealty for $6.75 per share in an all-cash transaction, for a total value of approximately $166 million. Realogy, whose brands include Better Homes and Gardens Real Estate, CENTURY 21, Coldwell Banker, The Corcoran Group, ERA and Sotheby's International Realty, is acquiring ZipRealty's residential brokerage operations with 23 offices across the U.S.
The transaction is expected to close in Q3 of 2014.
ZipRealty closed Tuesday at $3.02, and was bid at $6.60 after hours.
Posted-In: News Rumors M&A After-Hours Center Movers
View Comments and Join the Discussion!