5 Things You Didn't Know About 17-Year-Old Actress Rachel Fox's Trading Style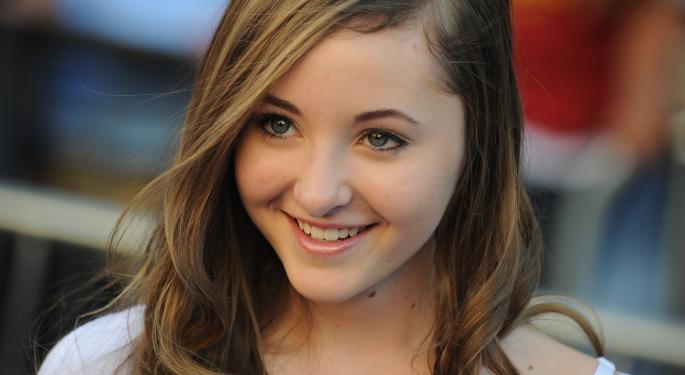 Most 17-year-olds trade gossip, test answers and lip gloss.
But Rachel Fox trades stocks, and also stars in Hollywood productions like "Desperate Housewives" and "Dream House." She's the author of "Fox On Stocks" and was recently a guest on Benzinga's #PreMarket Prep show to share some insight on her trading style.
Who has the best original content? Netflix, Amazon, or YouTube? How will Yahoo compete? http://t.co/PAJlTjdUvR $NFLX $AMZN $ GOOG $YHOO

— Rachel Fox (@FoxonStocks) July 14, 2014
1. She Likes To Trade In The Morning
Typically she trades in the morning, because that's when there's more volatility. She said she's a morning person and gets up every day at 5:30 a.m. ready to trade.
"I think that is when people are starting up their positions or closing things out," she said.
Related Link: 5 Companies That Are Empowering Women
2. She Does Her Pre-Market Homework
She checks out the index futures and has a morning routine set up. Her mornings depend on how she's held things overnight, and whether she's coming into the day with positions or entering with a fresh start.
3. She Doesn't Play Social Media Stocks
She watches them but hasn't jumped in. They're very visible, she said, and there's a lot of argument about what they're going to do. She's unsure about which way they'll go, so her strategy is to just sit back and watch.
4. She Uses Candlestick Charts
Mostly Fox relies on daily candlestick charts. She said she will also look at long-term charts, including for the year or six months, but the candlestick charts are her main tool for technical analysis. She even looks at shorter-term charts, like 30-minute or 10-minute charts, but tries not to go too far.
"That's just a head game in and of itself," she said.
Related: Dennis Gartman On The Bull Market, Gold And Why The Market Is Not Rigged
5. She Wants To Trade Options
She's been studying, researching and trying to understand the different plays. She said she's looking to start soon, but she wants to learn as much possible before she jumps in.
Bonus: She's got a movie coming out on DVD
On the entertainment side, Fox's most recent made-for-TV movie, Zombie Night, is coming out on DVD soon. It also stars Daryl Hannah and Anthony Michael Hall.
Check out the full interview here:
View Comments and Join the Discussion!
Posted-In: Benzinga #PreMarket Prep Fox on Stocks Premarket PreMarket PrepTopics Success Stories Interview General Best of Benzinga