7-Eleven App Problems Lead To More Free Slurpees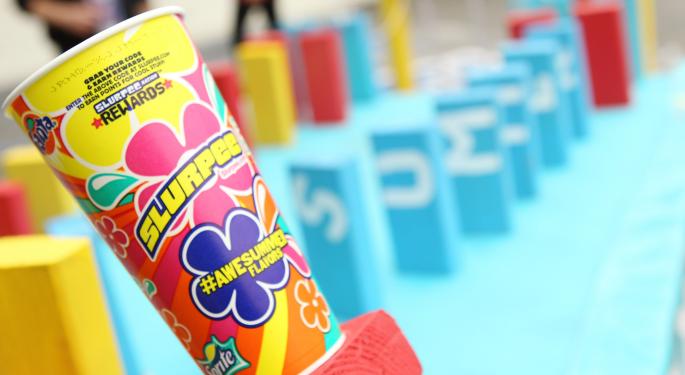 What could be better than a free, summertime Slurpee?
7-Eleven planned to answer that question with an entire week of freebies, including Big Gulps, M&M's candy, Twinkies and Twix ice cream bars. The lengthy celebration was scheduled to begin on Saturday, July 12 -- one day after the company's free Slurpee day.
While the first free Slurpee could be obtained by anyone (when Benzinga dropped by to get one, the cashier didn't even bother to scan the cup), the other goodies could only be acquired after downloading 7-Eleven's app. When customers turned to the app for their week of freebies, however, they were greeted by glitches and error messages:
Thank u for nothing @7eleven! Haven't been able to get anything out of your app -_- #Deleting @shironell @rodhen2007 pic.twitter.com/gTyIVRpI9C

— Mariano Henriquez (@mawesome1) July 14, 2014
Thanks @7eleven for getting my hopes up for free stuff and then shattering them. #fail pic.twitter.com/PPNXvL4D0l

— Melly Ramirez (@shironell) July 14, 2014
To compensate users for the error (and lure angry customers back to the store), 7-Eleven has extended its giveaway for two extra days. The start date has been pushed back to Tuesday, July 15, though it sounds like some customers are already cashing in.
Just got a free pack of grandma'a cookies at 7eleven #confused with its gig, but glad I got my cookies pic.twitter.com/3oDLDWhgkd

— Sinai Guerrero (@sguerrer90) July 14, 2014
Others weren't so lucky. (Note the time stamp of both tweets.)
7-eleven app still down? Scan for the free cookie and it charged me .99 and now the coupon is gone. @7eleven

— Kevin Roberts (@Kev_Vader) July 14, 2014
"Because of the high demand for our 7-Eleven Week offers, we experienced some technical difficulties over the weekend with the offer section of the 7-Eleven App," a 7-Eleven spokesperson told Benzinga. "In the interest of providing the best experience for our guests, we are re-launching the 7-Eleven Week program on Tuesday, July 15."
Related Link: Why WWE Network's Free Trial Isn't Necessarily A Bad Thing
The enhanced program includes the following items:
Tuesday, July 15, 2014 - Free Hostess® Twinkie (single serve)
Wednesday, July 16, 2014 - Free SNICKERS or TWIX Brand Ice Cream bar
Thursday, July 17, 2014 - Free Quaker Chewy Yogurt Snack Bar
Friday, July 18, 2014 - Free Pillsbury Cookie (includes all flavors)
Saturday, July 19, 2014 - Free Small Slurpee drink
Sunday, July 20, 2014 - Free Big Gulp® drink
Monday, July 21, 2014 - Free M&M Birthday Cake Candy
Tuesday, July 22, 2014 - Free Grandma's Sandwich Crème Cookies (3.0–3.025 oz size)
Wednesday, July 23, 2014 - Free Big Gulp drink
Thursday, July 24, 2014 - Free Small Slurpee drink
Thousands of customers are sure to benefit, but some people actually prefer to pay for their Slurpees.
I do not partake in @7eleven's #FreeSlurpeeDay. It's for @slurpee amateurs. I pay for my sweet nectar.

— Alexi Lalas (@AlexiLalas) July 11, 2014
Disclosure: At the time of this writing, Louis Bedigian had no position in the equities mentioned in this report.
Posted-In: 7-Eleven Big Gulps convenience storeNews Management Success Stories Tech General Best of Benzinga
View Comments and Join the Discussion!