One Forex Trader's Tips On Trading Currencies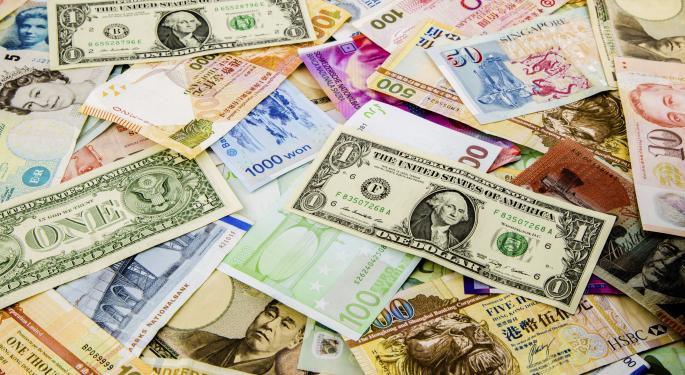 Unlike equity markets, currencies are open all the time.
That means Forex traders mostly get to set their own hours, if they even sleep at all. Forex trader Lydia Idem Finkley is a night owl, so she doesn't like to go to bed early -- but that doesn't stop her from getting to sleep around 8:00 p.m. Pacific Coast Time, so she can get up to trade around 2:30 a.m.
Finkley was recently a guest on Benzinga's #PreMarket Prep show to discuss her favorite currencies, high frequency trading and how she uses the news.
Dollars And Pounds
Finkley started her career in equities, but moved to Forex a little more than seven years ago. She trades exclusively the pound sterling, and her favorite pairs are the pound/dollar and Euro/pound. Although she trades those almost exclusively, she said, she always trades the pound against the Australian dollar, the Canadian dollar and the New Zealand dollar as the opportunities arise.
$GBPUSD taking a well-deserved breather today http://t.co/AbfYx1ncJ5

— Lydia Idem Finkley (@faithmight) July 7, 2014
$EURGBP too. Remember 0.7960 were last wk's lows. Now the level needs to be this wk's resistance. Nice confluence also with 38.2Fib

— Lydia Idem Finkley (@faithmight) July 7, 2014
Because she loves the pound, she says most of the "meatier" moves happen in the European and U.S. sessions. And since she lives on the West Coast, her prime time for trading is about 1:30 a.m until about 8:00 a.m.
Finkley does most of her active trading during those times, steping away from the computer screens toward the afternoon, and tries to not trade at all or take opportunities during the evening.
"As a trader, I'm always going to watch price and watch what price levels are at," she said.
For The Love Of Pounds
Finkley is a swing position trader, so she sticks to mostly daily and weekly charts, she said, but will use the one-hour and four-hour to time entries and exits.
She loves the liquidity in the pound/dollar. "I find it moves a lot more," she said. "Particularly earlier in my career, it was one of the better movers when you consider the majors."
Another reason Finkley likes the pound is it moves very technically, especially when it's trending. Finkley likes that consistency.
"My best set-ups are a Fibonacci move after a breakout or a move in a certain direction," she said.
High Frequency Trading In Currencies
High freqency trading does affect the Forex market, Finkley said. Spreads have come down significantly, even in just her trading of the pound/dollar. Since she started trading in 2006, the spread on the pound/dollar has been reduced from five pits to 1.6 pits.
Finkley said the most successful traders she knows tend to focus on only a couple of currency pairs.
"If you are a trader who can kind of hone in and be patient and understand how your currency pairs trade, then you can still be successful in the market," she said.
How To Use The News
Finkley uses news is as a catalyst for entry or exit.
"The best kind of moves are set off by fundamentals or news releases, but they still respect your technical levels," she said.
Related: Consulting Analyst Ann Logue Talks 'Day Trading For Dummies'
Especially for entry, traders want to be aware of the calendar and what time news releases are coming. What she doesn't let the news dictate is whether she would come out of a position or lighten up -- she sticks to her rules for trade management to determine that.
"It's absolutely important for Forex traders to pay attention to the calendar, and kind of base our moves on the underlying fundamentals of the trend," she said. "So, you can use that as a catalyst to get in or out because you know you're going to get that knee-jerk reaction."
Finkley's Final Advice
Finkley's best advice for traders come in three succinct steps: Get in, find a good broker based on your trading style, and start with real money as soon as you can. "With Forex, the practice platform truly doesn't capture what's happening with your motions and your account once you're truly in the market," she said. "Get into real money as soon as you can, but not a lot."
Check out her full interview here:
Posted-In: Benzinga #PreMarket Prep british poundNews Forex Markets Trading Ideas Interview General Best of Benzinga
View Comments and Join the Discussion!