Target 'Respectfully Requests' Gun Owners Leave Weapons At Home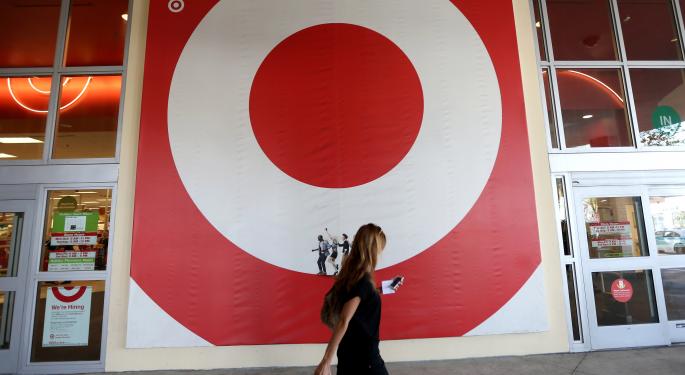 Calling it a "complex issue," discount retailer, Target (NYSE: TGT) said Wednesday that "starting today we will … respectfully request that guests not bring firearms to Target – even in communities where it is permitted by law."
Although Target interim CEO John Mulligan acknowledged that the issue involved certain protected rights, "Bringing firearms to Target creates an environment that is at odds with the family-friendly shopping and work experience we strive to create."
The decision to ask customers not to bring firearms into Target stores came about following the online posting of photographs of people carrying rifles through the aisles of Target stores near Dallas by Texas gun-rights groups, according to The Wall Street Journal.
Related Link: Target Set To Lead The Way On Chip And Pin Credit Card Technology
This was followed by a campaign designed to pressure Target to ban open carry in its stores. Moms Demand Action for Gun Sense in America, a gun-control organization funded by former New York Mayor Michael Bloomberg, launched the campaign.
At one point, the National Rifle Association appeared to side with gun control advocates and called the practice "not neighborly." A short while later the NRA apologized and said the anti-open carry comments were made by an individual staffer and did not reflect the official NRA position.
Open Carry Texas, the group whose members first carried guns in Target (and other) stores said it regretted Target's decision but that its members would comply with the company's request.
Target competitor, Wal-Mart does allow customers to carry handguns in its stores so long as state and city laws allow open carry.
Costco forbids club members from bringing guns into its stores. A number of restaurant chains, including Chipotle, Starbucks and Sonic, also ask customers to leave their weapons at home when coming to dine.
According to a CBS television affiliate in Dallas, Texas, reaction to Wednesday's announcement among Target shoppers was mostly positive.
The TV station quoted Target customer Theresa Towner who said, "I think Target is to be commended for asking those people not to do that. I think it's a stupid issue," Towner added. "People carrying assault weapons in public. It's nothing more than an attempt to intimidate other people."
Meanwhile, The Wire reported that Target spokeswoman, Molly Snyder, said the move by Target was not a policy change but a position.
Asked if Target would force a gun-toting customer to leave, Snyder said, "Because this is a request and not a prohibition, we do not plan to communicate with our customers at this time."
At the time of this writing, Jim Probasco had no position in any mentioned securities.
Posted-In: CBS Chipotle Costco John Mulligan Michael BloombergWall Street Journal Events Media Best of Benzinga
View Comments and Join the Discussion!