15 Companies That Are Killing It With Equal Rights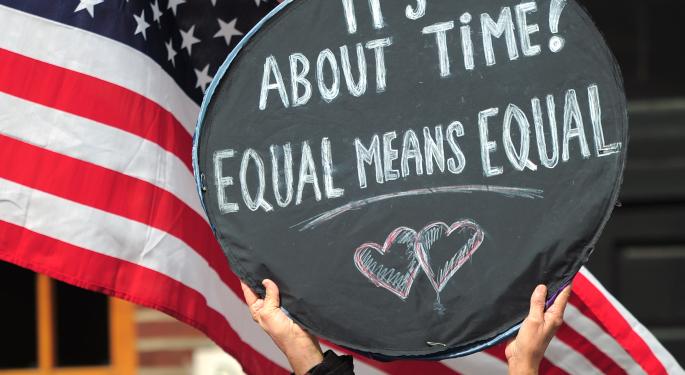 The Supreme Court's decision on Monday, in Burwell vs. Hobby Lobby, exempted some companies from offering contraceptive coverage for women workers.
The ruling raised concerns among equal rights proponents about potential discrimination against members of the LGBT and other communities, based on similar "religious belief" grounds.
Many companies, however, including some of Fortune 500's most notable, have moved in an entirely different direction -- going out of their way to support equal rights for workers and promoting their "equality" stand with customers.
Here are 15 companies that are killing it in the equal rights department.
Fortune 500 Favorites
For the past 12 years the Human Rights Campaign Foundation (HRC) has published a Corporate Equality Index rating companies (on a scale of 1 to 100) on policies, benefits and practices that affect the LGBT community.
For 2014, a record 13 of the top 20 companies on the Fortune 500 list achieved a perfect score of 100.
Ranked number three among Fortune 500 companies Chevron boasts about its HRC perfect score on the corporate website, under "Diversity."
Additional "equality" markers include the fact Chevron was the "first major integrated energy company to include sexual orientation in its nondiscriminatory policies and offer domestic partner benefits to our employees."
In 2012, the company received the Women's Business Enterprise National Council top corporation award for the opportunities it provided women entrepreneurs.
Related: 5 Publicly-Traded Companies That Support Marriage Equality
Chevron also received a Corporate Diversity Leadership Award from the National Society of Black Engineers in 2012.
General Motors (NYSE: GM)
As the number-five company on Fortune's list of 500 top corporations, General Motors has traditionally carried a lot of clout when it comes to equality in both the workplace and marketplace.
A press release from GM Chief Diversity Officer Ken Barrett demonstrates the company's commitment to equality.
From basic employment protection to inclusive benefit policies to recognition of married LGBT couples – regardless of where they live – GM has worked hard to create an approach to equality that, in Barrett's own words is "as diverse as the community itself."
General Electric (NYSE: GE)
Close behind GM is GE, which sits at the number six position on the Fortune 500 list. GE has more than 300,000 employees worldwide. Diversity and inclusiveness, the company says, is "an essential part of … productivity, creativity, innovation, and competitive advantage."
In recognition of its focus on equality, in addition to that perfect HRC score, GE was named one of both Woman Engineer Magazine's and Equal Opportunity Magazine's Top 50 Employers.
The company was also named Minority Engineer Magazine's number-one employer, as well as one of the top 50 employers cited by CAREERS & the disabled Magazine.
The Rest of the Best
Rounding out the balance of the HRC Fortune 500 "equality" 13 are Ford (NYSE: F), Hewlett-Packard (NYSE: HPQ), AT&T (NYSE: T), Bank of America (NYSE: BAC), McKesson Corporation (NYSE: MCK), Verizon Communications (NYSE: VZ), JP Morgan Chase & Co (NYSE: JPM), Apple (NASDAQ: AAPL), IBM (NYSE: IBM) and Citigroup (NYSE: C).
Related: The Top 23 Gay Marriage Supporters in Business Today
Two Worth Special Note
Some companies with less-than-perfect CEI scores (so far) have nonetheless drawn praise for bold action and advocacy.
Although the company's 2014 HRC CEI score of 90 wasn't perfect, it was only lacking in one area, the offering of transgender-inclusive health insurance coverage.
In all other areas, include public engagement, Starbucks shined. This fact was highlighted last year at a stockholder meeting, in which a shareholder challenged CEO Howard Schultz on the company's strong support for same-sex marriage.
Saying it was not about the bottom line but about "respective diversity" Schultz then added, "You can sell your shares in Starbucks and buy shares in another company."
Burger King (NYSE: BKW)
More recently, the world's number-three hamburger chain made what many considered a number-one move in support of the LBGT community -- by introducing a "Pride Whopper." Burger King sold the sandwich during the Gay Pride Parade in San Francisco last week.
The rainbow packaging said, "We are all the same inside."
Actions like this could help the company improve it's less-than-impressive 55 CEI score and join a growing number of corporations that have made "equality" part of corporate structure.
At the time of this writing, Jim Probasco had no position in any mentioned securities.
Posted-In: Apple AT&T Bank of AmericaNews Politics Events Media General Best of Benzinga
View Comments and Join the Discussion!