Instant Replay's Next Target? The World Cup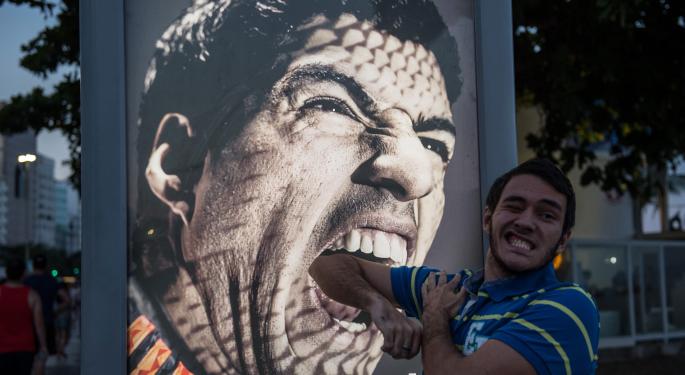 Following the Luis Suárez biting incident in which the Uruguyan striker chomped down on Italian player, Giorgio Chiellini, FIFA banned Suárez from all soccer-related activities for four months.
FIFA's action, however, missed an important point.
Mexican referee Marco Rodriguez waved a no-call when the incident happened, despite teeth marks on Chiellini's shoulder that could be seen clearly on video replay. That replay, of course, was not an official reviewable instant replay because such a thing does not exist in the World Cup.
This led to commentary suggesting if Suárez had been issued a red card and ejected from the game, based on an immediate instant replay of the incident, Uruguay's goal off of Diego Godín two minutes later may never have happened, the game would have ended in a tie, and Italy would have advanced instead of Uruguay.
Related: How 6 Companies Have Turned To Music For The World Cup
Blown Calls Turn Off Americans
Soccer is the most popular sport in the world, but not in the U.S. where FIFA would love to have a stronger toehold with fans and corporate sponsors like Anheuser-Busch (NYSE: BUD), McDonald's (NYSE: MCD), and Coca-Cola (NYSE: KO) to name just a few.
According to Forbes, one contributing factor to a lack of enthusiasm for soccer in the U.S. is the random nature of referee errors that change the outcome of matches. Part of the reason for the disconnect is the fact Americans have grown accustomed to the use of technology to correct human mistakes instantly.
The NFL has official instant replay as does the NHL, NBA, and even Major League Baseball. Many believe the time has come for the use of video replay technology in the World Cup, if not professional soccer in general.
Related Link: Facebook Optimizes Android App To Attract Emerging Market Users
Soccer Refs Need Help
Compared with a basketball court, hockey rink, or even football field, a soccer field is huge. The sheer geography has made it nearly impossible for a single field referee and two off-field linesmen to see and cover everything that happens.
Forbes suggested one simple way for FIFA to address the issue. Add a second field referee and adopt instant replay to review all penalty kicks called and cautionary cards awarded.
Allowing teams one challenge per game should not result in an appreciable slowing down in the action – one of the reasons often given for FIFA's reluctance to adopt instant replay technology.
Instant replay, proponents argue, would reduce the impact of the referee on the outcome of the game and place responsibility back on the shoulders of the players where it always should have been in the first place.
At the time of this writing, Jim Probasco had no position in any mentioned securities.
Posted-In: Anheuser-Busch Coca-cola FIFA McDonald's MLB NBATopics General Best of Benzinga
View Comments and Join the Discussion!