Why South Africa Is A Key Player In the Global Market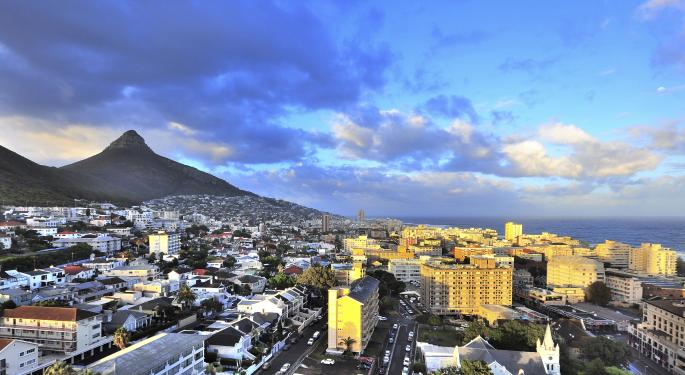 Paul Theron knows that South Africa is an exciting new frontier for companies.
In the second half of the last decade, the region has been home to an emerging market, consumer-driven success story.
Theron is the founder and principal of Vestact, an asset-management firm is based Johannesburg, South Africa. He was recently a guest on Benzinga's #PreMarket Prep show, where he shared his insights on South African markets, gold, bitcoin and more.
Theron and his team manage money for South African investors on Johannesburg's local stock exchange, which is roughly the 14th largest exchange in the world, Theron said.
Vestact also manages money in the United States for South African clients who invest in U.S. stocks. Theron said about two-thirds of Vestact's investments are in Johannesburg markets, and about one-third are in the U.S. markets.
Related: How One Startup Quadrupled Its Size In 9 Months
"In fact, that's kind of changing," he said. "The U.S. investment in South Africa is growing a little bit faster because South Africans are becoming more world-wise and more and more of them want to have investments globally as well as in South Africa."
As Theron pointed out, many companies that are big global players also have South African roots, including SABMiller (OTC: SBMRY), Compagnie Financière Richemont (OTC: CFRUY) and BHP Billiton Limited (NYSE: BHP).
"Some of our big companies are, in fact, held in global capital markets," he said.
Patience is a virtue
Vestact's portfolio performance has outperformed the JSE Africa All Share Index by a wide margin over five- and ten-year periods. Theron identified two factors that has enabled his firm to do this.
First, rising commodity prices and high growth in the retail and food production sectors in the last decade have led to the success of the Johannesburg markets overall. Second, Vestact's portfolio has focused on sub-sectors of the markets that have done particularly well, like technology and healthcare.
"I think just by being patient," he said. "We like taking long term stakes in market leaders in growing part of the economy. That's basically the formula."
Resource-rich country
South Africa was the world's largest gold producer in the 1960s and 1970s, Theron said. But what's happened recently with the South African gold mines is that they have become progressively deeper since the high-level, easy-to-access grids and resource bodies have been worked out.
The result is that gold producers are not a particularly exciting part of markets in South Africa anymore, Theron said. Most of the large gold companies, like AngloGold Ashanti Limited (NYSE: AU) and Gold Fields Limited (NYSE: GFI), have internationalized their operations, he said, but still have a footprint in South Africa.
Related: 1,000 Ounces Of Gold Recovered In Marine Exploration
Vestact largely avoids the gold sector, and Theron said that policy has served the company well. He said gold producers are quite "twitchy," where they do well for a while and then don't do well again.
"For me, the gold sector and the whole idea that the gold price is going to benefit from hyper inflation and economic difficulties in the world -- that's not something I'm really inspired by," he said.
The bitcoin pipe dream
Theron considers himself more of a conservative, regular sort of guy, and he's not really interested in bitcoin.
Instead, Theron suggests investing in something like Visa (NYSE: V), because it's real money moving between real financial institutions.
"Small amounts of money being made on a multitude of transactions -- that is the real world," he said. "The bitcoin seems like a pipe dream."
Check out Theron's interview here:
View Comments and Join the Discussion!
Posted-In: News Emerging Markets Entrepreneurship Commodities Success Stories Markets Interview General Best of Benzinga