Benzinga's M&A Chatter for Thursday June 19, 2014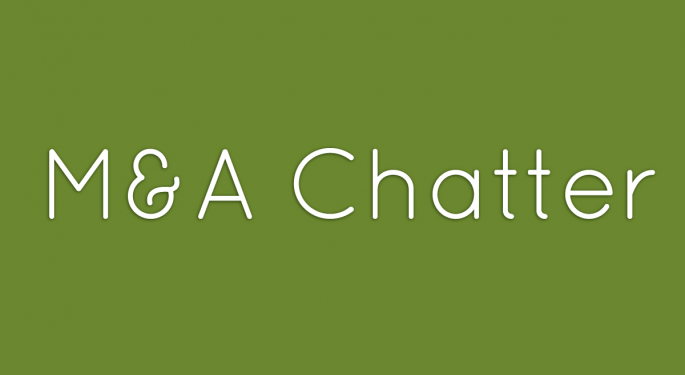 The following are the M&A deals, rumors and chatter circulating on Wall Street for Thursday June 19, 2014:
Exxon Mobil Mentioned as Potential Acquirer of Kodiak Oil & Gas
The Rumor:
Shares of Kodiak Oil & Gas (NYSE: KOG) moved higher Thursday, on a report from Deal Reporter that it could be a potential takeover target for Exxon Mobile (NYSE: XOM). There was unusual option activity last week in the July $14 call.
Spokespersons for Kodiak and Exxon Mobil were not available for comment.
Kodiak Oil & Gas closed Thursday at $14.36, a gain of more than 2%.
Icahn Wants FDO Sold
Ichan:
Shares of Family Dollar (NYSE: FDO) surged higher after hours Thursday, as investor Carl Icahn called for a sale of the discount retailer. Icahn recently reported a 9.39% stake in Family Dollar and he wants three of his representatives added to the company's board.
Icahn has said that wanted Family Dollar to merge with Dollar General (NYSE: DG).
Family Dollar closed Thursday at $68.14, and traded as high as $70.90 after-hours.
American Apparel CEO is Out; Company Could be for Sale
The Rumor:
American Apparel (NYSE: APP) announced Thursday it was suspending CEO Dov Charney for cause and replacing him with interim CEO John Luttrell. The NY Post reported that Charney's departure could create an opportunity for a potential sale, according to sources.
American Apparel Co-Chair Mayer, later told Bloomberg there were no plans to sell the company.
Shares of American Apparel closed at $0.68, a gain of almost 7%.
Energy Transfer Nearing Deal for Targa Resources
The Rumor:
Energy Transfer Equity (NYSE: ETE) is in talks to acquire Targa Resources and its operating unit Targa Resource Partners (NYSE: NGLS), according to Bloomberg. Sources say a deal could be announced next week and could also involve Regency Energy Partners (NYSE: RGP).
Shares of Targa Resources Corp closed Thursday at $150.62, a gain of 20%, Targa Resource Partners gained more than 17% to close at $81.55.
View Comments and Join the Discussion!