Underlying Tech And Pricing Concerns Scorch Amazon's Fire Phone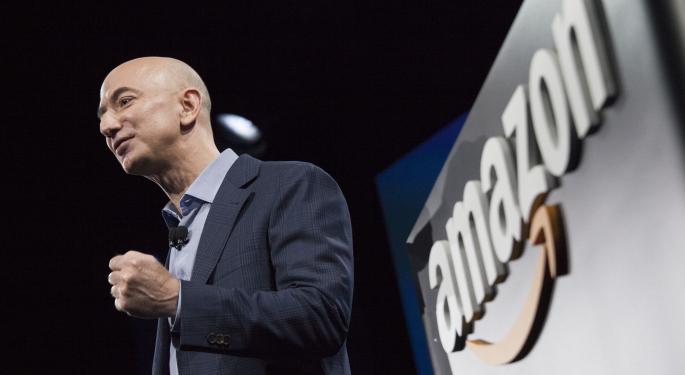 On Wednesday, Amazon (NASDAQ: AMZN) announced its first smartphone design with Dynamic Perspective and Firefly technologies.
Amid the release, concerns over other Amazon technologies and pricing become apparent.
Fire Smartphone Specs
The Fire smartphone has a 4.7-inch screen, 2GB RAM, a quad-core 2.2GHz processor and a 13 megapixel rear-facing camera with an f/2.0 lens. The 3D technology within the phone also enhances users' gaming and viewing experience.
The Dynamic Perspective technology "uses four ultra-low power specialized cameras and four infrared LEDs built into the front face of Fire, a dedicated custom processor, sophisticated real-time computer vision algorithms, and a new high-performing and power-efficient graphics rendering engine." In addition, Firefly enables users to scan anything with the camera. Users can use the Firefly technology, similar to Amazon's Dash, and shop for almost anything with purchases directed back to Amazon, if available.
Will This Be the End for Amazon Dash and Flow?
On April 4, 2014, Amazon launched Dash. Amazon Dash enables Prime Fresh customers to add groceries and goods to their shopping list by scanning barcodes and using a voice command feature with the black and white wand.
The device complements Amazon's launch of the Flow app in February which identifies an object using the user's smartphone and reveals more information about the product including author, release date, calories and more. Once identified, the item can be shared on social networks or bought directly from Amazon.
Related Link: Benchmark Calls Amazon's Fire 'Another Smart Product'
Firefly appears to be the logical evolution of the Flow app, but is Dash a dead technology? Consumers want technology that is intuitive, fast and all-in-one. How many tools do consumers need in scanning items?
A Leader in Innovation
Analysts and journalists have been quick to compare Amazon to Apple. As Apple takes a step back in inventing "new" products, Amazon takes the lead. From early starts as an internet bookseller to marketplace giant, Amazon has made tremendous strides in exclusive Prime membership and innovations in Kindle E-readers, Fire Tablets, Fire TV, apps and more.
The Fire smartphone's price (without a service plan) also compares with Apple's 5C phone at $649.00. In addition, the phone does not support services associated with Google. Is Amazon's innovative software worthy of the exclusivity and price associated with Apple products?
It appears that Amazon is trending towards this exclusivity, as the company solely partnered with AT&T and is optimistic on continued strength in its growing ecosystem.
The Real Price of the Fire Phone
The Fire phone starts at $199.00 for the 32GB version with a two-year agreement with AT&T with required data and voice plans. For $100.00 more, customers can order the 64GB model.
Benzinga spoke with an AT&T representative in order to find the best price for an individual plan. For the Fire smartphone, customers need to select a Mobile Share plan which includes unlimited talk, text and a data limit.
The representative commented, "Currently our data plans range up to 50 GB per cycle. However, 98 percent of customers use below 2GB of data per cycle, and 65 percent of customers stay under 300MB of data per month." For the best value for web browsing, using Facebook and streaming videos mainly through WI-FI, AT&T suggested the 1GB Mobile Share plan which encompasses "Unlimited Talk, Text, and 1GB of data for $65.00 per month."
Benzinga asked about some plans online listed for $20.00 per month. The representative noted that the advertisement on the site is for the 300MB Mobile Share plan… which really isn't $20.00 per month. AT&T remarked, "The 300MB Mobile Share plan is $20.00 per month for the plan and $40.00 per month for a smartphone on a 2 year contract. The 300MB Mobile Share plan would cost you $60.00 per month."
Assuming the purchase of the recommended 1GB Plan for the 32GB Fire phone, and not including taxes and additional fees, the cost for the phone equals $199.00 + ($65.00 x 24 months) + $99.00 for 1 year of prime membership (using the current promotion of one year free) = $1858.00.
Note, the $1858.00 price does not include taxes, additional fees, insurance for the phone, cases or other accessories.
View Comments and Join the Discussion!
Posted-In: AT&T comments Fire Smartphone innovations pricingTech Best of Benzinga