Advances In HIV, Hep C Treatments Could Spark Renewed Interest In Biotech Stocks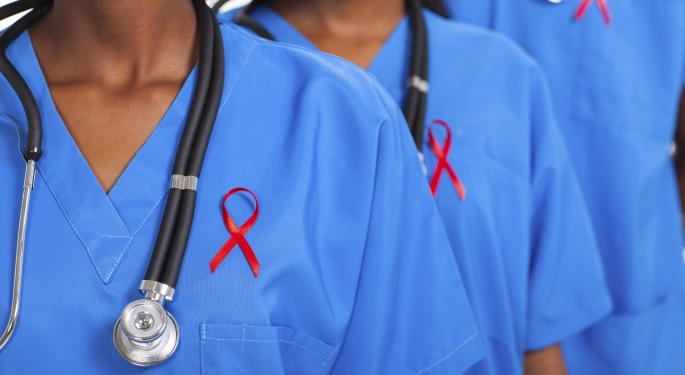 This month marks 33 years since the U.S. Centers for Disease Control and Prevention (CDC) reported on a rare lung infection affecting a group of gay men – one of the first known medical mentions of what later became known as the AIDS outbreak.
The World Health Organization says that, over the ensuring decades, the Human Immunodeficiency Virus (HIV) that causes AIDS has infected nearly 75 million people globally, and has led to the death of about 36 million.
The CDC also reports about one-quarter of all HIV-infected persons in the U.S. are also infected with the Hepatitis C virus.
New Treatments
Several big pharmaceutical companies have come up with new developments in the treatment of both HIV and Hepatitis C – treatments that, while not necessarily medical breakthroughs, could help improve the lives of millions of patients.
Related Link: House Votes To Protect Medical Marijuana Users And Businesses
Last week, Johnson & Johnson (NYSE: JNJ) announced it was entering into collaboration with Viiv Healthcare to develop and commercialize a single-tablet HIV treatment – an alternative to the "cocktail" of medicines many HIV patients now take.
"HIV remains a significant medical challenge, and our goal is to find new treatment regimens for patients," Paul Stoffels, Johnson & Johnson's chief scientific officer, and worldwide chairman of Janssen, a part of J&J's pharmaceutical division, said in a press statement.
"We are pleased to collaborate with ViiV Healthcare in pursuing this shift in the HIV treatment paradigm," he continued, "and reaffirm our commitment to collaborate and develop new HIV treatments and fixed-dose regimens."
Viiv Healthcare is majority owned by GlaxoSmithKline (NYSE: GSK), and specializes in HIV research and treatment.
The CDC also made a controversial announcement on Monday, endorsing the U.S. Food and Drug Administration's recent decision to approve the use of the drug Truvada, produced by Gilead Sciences (NASDAQ: GILD), to reduce the risk of HIV infection in uninfected individuals "who may engage in sexual activity with HIV-infected partners."
Swift Approvals of More Treatments?
The FDA has also agreed to a priority review of an experimental, oral regimen of medicines for Hepatitis C patients -- developed by Chicago-based AbbVie Inc (NYSE: ABBV), a research-based biopharmaceutical company.
Reuters says the priority review means the FDA wil mostly likely decide within the next several months whether to approve the regimen. And on Tuesday, AbbVie announced its Hepatitis C regimen was receiving an "accelerated assessment" by the European Medicines Agency.
In the meantime Gilead Sciences, which according to Reuters launched its Hepatitis C drug Sovaldi late last year, is waiting for a decision from the FDA on an oral regimen that could combine Sovaldi with another, experimental drug.
Sovaldi is not cheap. Reuters says the cost of a 12-week treatment with the drug comes to around $84,000. And the wire service reports that Britain's National Institute for Health and Care Excellence is demanding more information before deciding if Sovaldi should be used by the UK's state health services.
View Comments and Join the Discussion!
Posted-In: AIDSBiotech Health Care Topics FDA Global Trading Ideas General Best of Benzinga