Google Glass Rapidly Gaining Traction With Physicians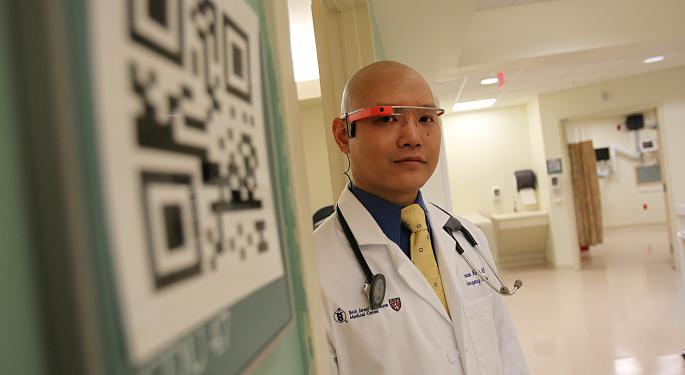 Despite controversy surrounding Google Glass and privacy, one area of potential use is set to explode. This potential comes in an area involving a sacred privacy– the doctor/patient relationship.
According to The Wall Street Journal, doctors at California health care-provider Dignity Health found that thanks to Glass they were able to double the amount of time they spent seeing patients each day. Software connected to the device entered patient data into electronic medical records during an exam or office visit. Traditionally, data entry has been done following the visit in a separate action.
More recently doctors have been able to take notes during a visit using a computer or tablet such as an Apple (NASDAQ: AAPL) iPad, but the use of Glass is an improvement over that method, since it allows doctors to continue interacting with the patient, as opposed to stopping to enter data.
Related: Can This Simple Program Stop Google Glass In Its Tracks?
Doctors reported that use of Glass reduces the time spent documenting and entering data by two-thirds. As noted by The Wall Street Journal, for example, Dignity physicians said they were able to document patient visits in 15 minutes. In the past, this process took two hours at the end of a shift.
In addition to the good news physician use of Glass has generated for Google (NASDAQ: GOOG) (NASDAQ: GOOGL), an army of startups has entered the arena of Google Glass medical software. Reuters recently reported that Drchrono has developed a new application for Glass it said was the first "wearable health record."
The Drchrono app has made it possible for doctors to record an office visit or even surgery with the patient's permission. Video, photos, and verbal notes stored in the patient's electronic medical record become instantly available for sharing with the patient or other medical professionals as needed.
Missy Krasner, a spokeswoman for cloud service, Box, where Drchrono stores patient records in some instances, told Reuters she was aware of at least 20 venture-backed startups that cater to physicians who utilize Glass in their practices.
Related Link: New Emissions Regulations May Mean Tesla Battery Boom
Complying with federal regulations that protect privacy, known as HIPAA, has become a major concern for all of these software developers.
Although Google Glass was intended for the mass consumer market, privacy concerns and the general appearance of the device, which many consider "geeky" has raised questions about whether widespread adoption would be likely. Professional use of Glass, however, could be more easily accepted, especially in settings where it became a more or less standard tool.
With Drchrono touting a base of 60,000 registered physicians using its electronic medical record, 300 of whom have opted to utilize the Glass app, it may be only a matter of time before medical use of Glass becomes one of the most prevalent uses of all.
At the time of this writing, Jim Probasco had no position in any mentioned securities.
Posted-In: Apple Box Glass GoogleTopics Tech Media General Best of Benzinga
View Comments and Join the Discussion!