#PreMarket Prep Guest List For The Week of June 16, 2014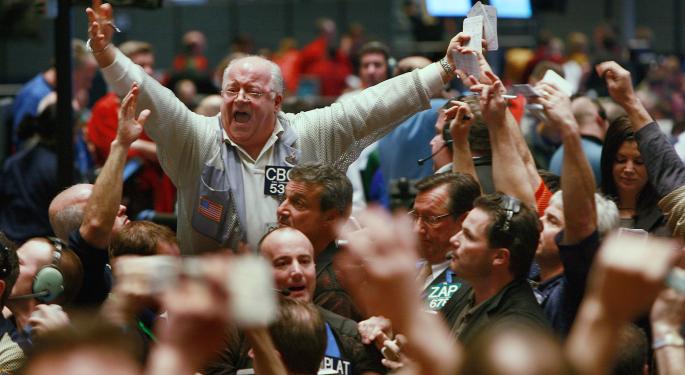 A full week of guests is ahead for Benzinga's #PreMarket Prep broadcast, sponsored by OptionsHouse.
Tune in at 8:00 am EST Monday-Friday here for market analysis and insight.
Monday, June 16, 8:35 a.m.
Anthony Alfidi (@tonyalfidi), Founder and CEO of Alfidi Capital
Alfidi Capital publishes free investment research with honesty and humor. Tony Alfidi holds a bachelor's degree in human resource management from the University of Notre Dame and an MBA in finance from the University of San Francisco.
9 a.m.
Cate Long (@cate_long), Reuters Financial Blogger
Cate Long writes about the fixed income markets including municipal bonds. She has worked for a number of years with industry standards organizations, regulators and Congress to help craft a more transparent and fair framework for investors to participate in the fixed income markets.
9:20 a.m.
Eddy Elfenbein (@EddyElfenbein), Editor of Crossing Wall Street
Eddy Elfenbein is the editor of Crossing Wall Street. He was named by CNN/Money at the best buy-and-hold blogger. His free Buy List has beaten the S&P 500 for the last seven years in a row.
Tuesday, June 17, 8:35 a.m.
Nic Chahine (@racernic), Creating income with options spreads
Nic Chahine will join the show every Tuesday to discuss the week's options outlook.
8:50 a.m.
Andrew Giovinazzi (@OptionVol), COO of Option Pit
Andrew Giovinazzi has served as a member of both the Pacific Exchange and the Chicago Board Options Exchange, where he actively made markets and traded in both equity and index options. Andrew started and ran the Designated Primary Maker post for Group One, Ltd, and then co-founded Henry Capital Management in 2001.
9:05 a.m.
Serge Berger (@SteadyTrader), Head Trader & Investment Strategist at The Steady Trader
Serge Berger has been an active trader since 1998. During his career, he's been a financial analyst, dealt in fixed income instruments at JP Morgan, and was a proprietary trader in equities, equity options and futures.
9:20 a.m.
David Peltier (@davidspeltier), Stocks Under $10 & Dividend Stock Advisor Portfolio Manager for TheStreet
David Peltier joined TheStreet as a research associate in August 2001, and writes TheStreet Stocks Under $10 and Dividend Stock Advisor. Before that, Peltier was an analyst for Individual Investor magazine and the publication's Web site. His market interests include small-caps, technology and retail stocks.
Wednesday, June 18, 8:35 a.m.
Harlan Pyan (@AllAboutTrends), Co-Founder of All About Trends
All About Trends is a subscription-based newsletter service focused on helping individuals secure consistent profits in the market by trading what they see, not what they think, hear or fear.
8:50 a.m.
Michael Lamothe (@MichaelGLamothe), Founder of ChartYourTrade.com
ChartYourTrade.com provides visitors with a sound investing routine that can work well with any trading methodology.
9:05 a.m.
Andrew Keene (@KeeneOnMarket), Founder of KeeneOnTheMarket.com
Andrew Keene is the author of "Trade to Win Using Unusual Options Activity, Volatility, and Earnings." Prior to founding KeeneOnTheMarket.com in 2011, Keene worked as a proprietary trader at the Chicago Board Options Exchange.
9:20 a.m.
Paul Theron (@paul_vestact), Founder and Principal of Vestact
Paul Theron is the founder and principal of Johannesburg-based asset management firm Vestact. He has worked in economic policy and fund management since the 1990s. He was the founder of Tradek, the first online stockbroking business in SA in 1996, which was listed on the JSE from 1999 until 2002. His firm, Vestact was established in 2002, and specializes in long-term private client portfolio management.
Thursday, June 19, 8:35 a.m.
Fari Hamzei (@HamzeiAnalytics), Founder of Hamzei Analytics
Fari Hamzei joins the show every Thursday, bringing his wealth of knowledge on aggressive equity options and index futures trends.
8:50 a.m.
Jeff Pierce (@zentrader), Founder of zentrader.ca
Jeff Pierce has been trading since 1999 and primarily focuses on momentum stocks. He has run zentrader.ca since 2008 and writes about market timing there.
9:05 a.m.
Meisa Bonelli (@MillennialTax), President of Millennial Ventures and Managing Partner of Millennial Tax
Meisa Bonelli, a Wall Street tax professional and business match-maker, specializes in advising home-based business professionals, start-ups and solopreneurs throughout the United States on tax issues that can help propel their business growth.
9:20 a.m.
Rev. Fr. Emmanuel Lemelson (@Lemelson), Founder and President of Lantern Foundation and Chief Investment Officer of Lemelson Capitol Managment
Fr. Emmanuel Lemelson is the founder and president of the Lantern Foundation and also the Chief Investment Officer of Lemelson Capital Management. In July and Oct of 2013 as well as April 2014 the firm ranked among the top hedge funds in the world according to Barron's.
Friday, June 20, 8:35 a.m.
Joe Gits (@smainfo), Founders and CEO of Social Market Analytics
Joe Gits is a pioneer in the emergence and growth of quantitative trading systems. He will join the show at the end of every week to discuss the under-the-radar stocks that travel on social media.
9 a.m.
Leigh Jones (@coppertrades), Founder and Trader at PitTrades.com
PitTrades.com is an online trading education campus. Leigh has intricately worked with over 200 companies, including Fortune 100 organizations, as a speaker, trainer, implementer and auditor for the world-renowned ISO 9000 family of quality standards. As a trader with 15 years experience, she began teaching money management, investing, and trading to employees within some of these businesses eight years ago, before launching PitTrades.com. She teaches technical analysis, option trading, covered calls, puts sells, scalping and swing trading strategies.

9:20 a.m.
Dean Zayed (@BrookstoneCM), CEO of Brookstone Capital Management
Dean Zayed is a Certified Financial Planner (CFP®) and holds the following licenses: FINRA Series 7, 63 and 65 and Illinois insurance license for life, health and long-term care.
Posted-In: #premarket #PreMarket Prep Andrew Keene Anthony Alfidi Benzinga #PreMarket PrepPre-Market Outlook Interview General Best of Benzinga
View Comments and Join the Discussion!