Benzinga's M&A Chatter for Thursday June 12, 2014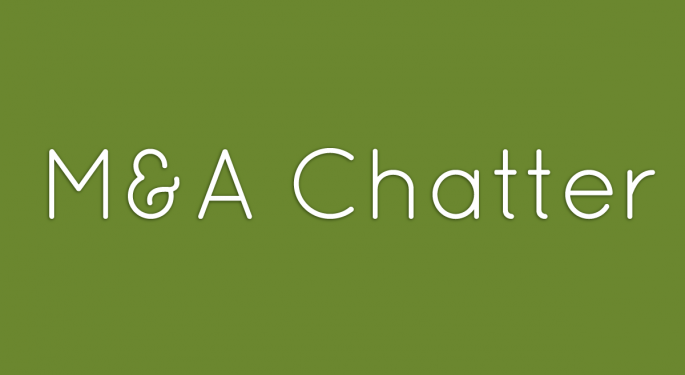 The following are the M&A deals, rumors and chatter circulating on Wall Street for Thursday June 12, 2014:
Hearing Chatter of Coca Cola Interest in All of Green Mountain
The Rumor:
Shares of Keurig Green Mountain (NASDAQ: GMCR) surged higher Thursday, on reports that Coca Cola (NYSE: KO) was interested in acquiring the remainder of the shares it does not already own. According to unconfirmed sources, Coke had offered $130 per share, while GMCR wanted $145.00. The rumor may have been generated by call activity.
Coca Cola announced on February 5, it was acquiring a 10% stake in Green Mountain for $1.25B. Spokespersons for the two companies were not available for comment on today's rumor.
Keurig Green Mountain shares gained 4% Thursday, to close at $120.75.
Senate Judiciary Committee hearing on AT&T-DirecTV Merger Scheduled for June 24
The Hearing:
The Senate Judiciary Committee will hold a hearing on the AT&T-DirecTV merger on June 24, according to Reuters. AT&T announced on May 18, it was acquiring DTV for $95.00 per share in cash and stock.
DirecTV shares closed Thursday at $82.92, a loss of $0.07.
Liberty Global, Discovery Reportedly in Talks Regarding Formula One Stake
The Rumor::
Liberty Global (NASDAQ: LBTYA) and Discovery Communications (NASDAQ: DISCA) are in discussions with the owners of Formula One to acquire a 49% stake, according to Bloomberg. The two media companies are negotiating with CVC Capital Partners and Lehman Brothers Holdings (OTC: LEHMQ), according to sources.
The parties involved were not available for comment on the report.
Liberty Global closed Thursday at $43.26, a loss of 2.5%, while Discovery Communications lost $0.18 to close at $78.50.
View Comments and Join the Discussion!