GoPro IPO Valued At $3 Billion: Is It The Next Flip Camera?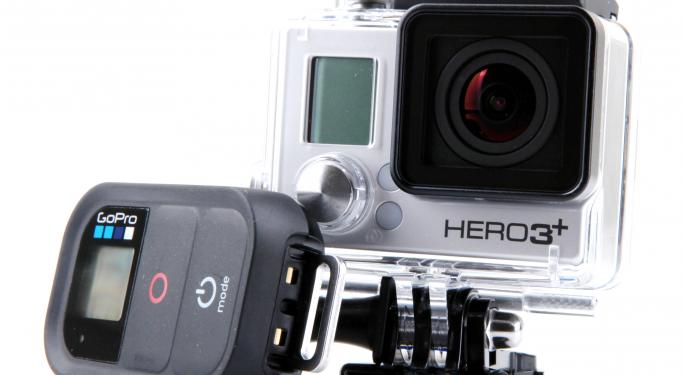 Maker of versatile photo and video capture devices, GoPro (NASDAQ: GPRO), released an updated S-1 filing early Wednesday morning.
The company is in the process of launching its initial public offering to continue support for its mission in transforming the way consumers share life's recorded experiences.
The company focuses its business on providing software and hardware solutions to capture, manage and share media content. GoPro sees its cameras as playing a supportive role in its quest to become a media brand company. The cameras are great, but sales alone won't keep the company from going the way of the Flip camera, which ceased production in 2011.
Invest in IPO shares before the stock hits the market with ClickIPO. Check it out here
GoPro seeks to tackle any future problems now, by developing an infrastructure that gives consumers what they want, with a "quick, easy way to manage, edit and share their content." GoPro is jumping in by dedicating resources to developing intuitive tools to edit and share professional-grade footage.
Related Link: IPO Lookout: IPOs For The Week Of June 9 - Is It Enough?
The company will also continue to develop its media brand by forming strategic marketing partnerships with athletes, celebrities, entertainers, corporate sponsors and sporting events. Current endorsements range from Olympic superstar snowboarder Shaun White to rock bands like the Foo Fighters. Even Alton Brown, author, chef and host of the television program "Good Eats," has endorsed the GoPro.
The underwriting team for GoPro's IPO consists of J.P. Morgan, Citigroup and Barclays.
In Wednesday's S-1 filing, GoPro stated its intention to sell 17.8 million shares for $21 to $24 per share, valuing the company at $3 billion.
If the offering goes through as planned, the company will raise $430 million in proceeds, which are slated for debt repayment and investment purposes.
Founder and CEO, Nicholas Woodman will be the largest shareholder of the company, with a 47.7 percent stake after the offering.
GoPro is headquartered in San Mateo, California -- and employs 718 people across the globe. Look for it to trade on the NASDAQ under the ticker, "GPRO."
Disclosure: At the time of this writing, the author holds not positions in the mentioned securities.
Posted-In: camera camera technology extreme sports GoProNews IPOs Tech General Best of Benzinga
View Comments and Join the Discussion!