StubHub Sees Continued Selloff For Record-Setting Stanley Cup Finals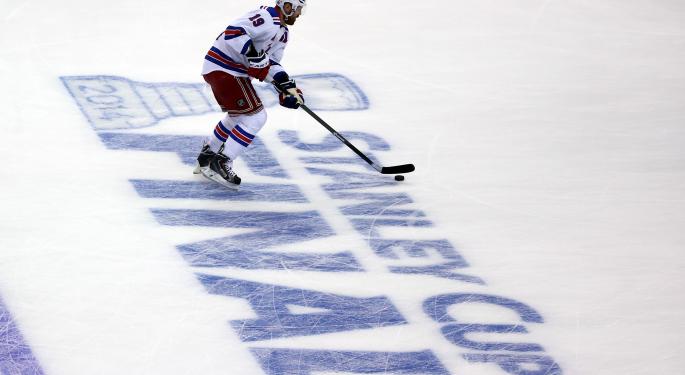 The Stanley Cup Finals could come to a close Wednesday night.
Resale tickets are selling off in a hurry. "Having a major market team in any series leads to high demand," Cameron Papp, spokesman for the online ticket marketplace Stubhub, told Benzinga. "In this case, with both New York and Los Angeles, we've seen record-breaking numbers for the NHL. This is StubHub's best-selling Stanley Cup ever."
There were almost 2,000 tickets available on StubHub Tuesday afternoon. There were less than 800 available for purchase Wednesday morning, as Ranger fans look to make a few extra bucks with their team facing a 3-0 Finals deficit. As of 3:30 p.m. ET, 433 tickets were available, ranging in price from $732 to $8,403.
Related: Because It's The Cup: StubHub Ticket Prices Go From Record Highs To Major Selloff
The average price per ticket Tuesday afternoon was $1,606; however, the price dropped to around $1,400 Wednesday morning. As Papp stated, "Generally we see ticket prices drop as we get closer to game time as sellers are looking to unload their tickets."
A VIP rinkside ticket package was up for over $25,000 Tuesday; a VIP package was listed for $13,900 Wednesday morning and has since sold off.
StubHub seems to be making it official that Rangers fans are slowly giving up ...

— Jackie Retzer (@JARetzer) June 11, 2014
The StubHub spokesman said team performance is usually the biggest indicator when it comes to the site's price fluctuations.
After record-setting numbers last week for New York's return to the Cup Finals, interest seems to have subsided. The vast majority of tickets sold on StubHub are coming from the New York area, Papp said, adding, "Currently 50 percent of StubHub's tickets sold came from the state of New York followed by 15 percent from New Jersey. California currently accounts for seven percent of tickets sold." Fans will be able to buy and sell tickets up until 8 p.m. ET, the scheduled start time of Game 4.
Posted-In: Cameron Papp Los Angeles Kings New York Rangers NHLNews Events Economics General Best of Benzinga
View Comments and Join the Discussion!