Are Ticketed Restaurant Reservations About To Go Mainstream?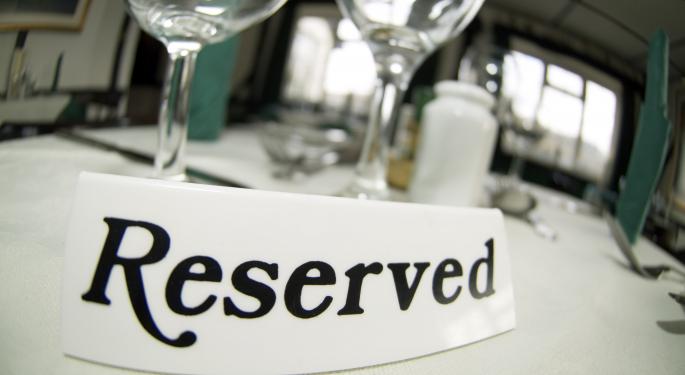 OpenTable (NASDAQ: OPEN) all but owns the online restaurant reservation space. That could change if Nick Kokonas has his way.
Kokonas, a former derivatives trader, in 2011 came up with a unique restaurant-friendly dining out approach based on ticketed reservations. Moreover, the system may be about to go mainstream.
The idea behind ticketed dining reservations is similar to sporting events and Broadway shows. With ticketed dining, the meal is an event. Patrons pre-purchase "dining tickets" online that either cover the entire cost of the meal – including tax and tip – or serve as a down payment in an a la carte setting.
Related: OpenTable Releases Restaurant Industry Index for Q1 2014
For restaurants, the primary advantage is that the system all but eliminates "no shows." Diners who make reservations and then fail to show up cost restaurants money and create kitchen chaos with excess perishable food on hand that goes to waste.
According to Kokonas, when he instituted a ticket price of $20 per seat at his cocktail bar, the Aviary in Chicago, "Our no-shows at the bar dropped from 14 percent to near zero." Kokonas told The Wall Street Journal, "If people buy tickets to a show, they go see the show."
For diners, advantages include dynamic pricing – discounted tickets for non-peak times - and certainty that the purchase of a ticket guarantees you a seat and a meal. OpenTable and other reservation systems, Kokonas said, often come back with a message that reservations are not available within two hours of the time a patron has chosen. Such is not the case with ticketed reservations, which Kokonas said means the table inventory is completely transparent.
Kokonas said he believes ticketed reservations are the wave of the future. Because of this, he has been working on a version of his reservation software program that he plans to offer publicly so other restaurants can copy this new approach to dining out.
Kokonas said he hopes to release his software "by the end of the year." Although it has no price, name or firm release date, Kokonas said there will be a small fee and no per-reservation charge.
Restaurants, Kokonas said, will have full control over pricing and the ability to choose when they offer tickets in the event some establishments want to continue with traditional reservations for part of the week.
Whether Kokonas' software and new approach will be a challenge to sites like OpenTable, or result in patrons migrating to the ticketed dining option remains to be seen. According to the company, "OpenTable helps fill more seats." It has brand name recognition and diners do not have to pre-pay.
On the other hand, OpenTable charges restaurants a $1,295 setup fee plus a monthly service fee of $199 and a $1 per OpenTable reservation fee. In addition, OpenTable charges $0.25 for reservations booked through the restaurant's website. Ultimately, those costs are passed on to diners.
For customers who intend to make and keep reservations, ticketed dining could save them money, provide more certainty to the reservation process and change the dining out landscape forever.
At the time of this writing, Jim Probasco had no position in any mentioned securities.
View Comments and Join the Discussion!
Posted-In: derivatives Nick Kokonas OpenTableTopics Restaurants Tech Media General Best of Benzinga