ECB Cuts Rates, Prepares To Contain Damage To Credit Markets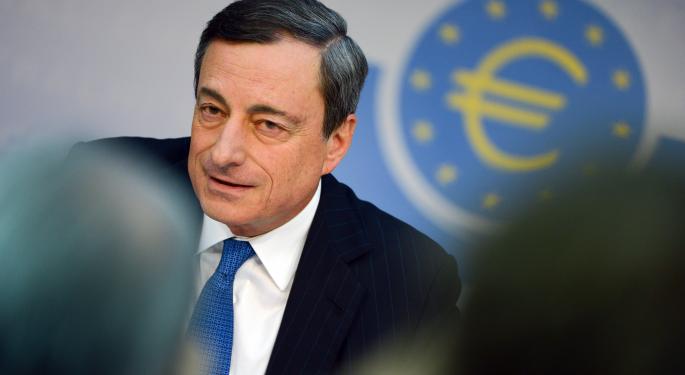 The European Central Bank cut its deposit facility rate to -0.1 percent in an effort to get banks lending again. This is the first time a major central bank has gone into the negative for a rate.
The bank also made a decision to cut the main refinancing rate from 0.25 percent to 0.15 percent. This came along with a reduction in the marginal rate by 35 basis points to 0.4 percent in an effort to fend off falling inflation and spur economic activity.
The ECB declined to use its most powerful tool, LTRO (Long-Term Refinancing Operation), and chose instead to cut rates while acknowledging its awareness of the presence of LTRO. The Central Bank said it, "also opened a 400-billion-euro ($542 billion) liquidity channel tied to bank lending."
Related Link: Goldman Sachs Macro View Changes From 'Slowdown' To 'Expansion' In One Quarter
By charging clients to hold money, the ECB has effectively stripped out the risk/reward involved in holding cash and seems to be pushing the banks into a state of lending designed to help credit markets. The action by the ECB, however, may have the opposite impact, potentially resulting in deterioration in the credit markets as more players attempt to gain profits off lending rates or through other aggressive banking practices.
As noted in 2012 by Bloomberg News, "that's because banks, trying to preserve their deposit bases by paying customers a reasonable interest rate, may reduce lending to companies and households because the return is too low and invest in higher-yielding assets instead."
The move appears to be attempting to spark lending and spending, while at the same time preparing to buy asset-backed securities in an effort to drive up equity prices. Higher equity prices would allow collateral to increase in value so banks that are paying negative deposit rates can comfortably lend to less credible clients while still turning a profit.
As has happened in the U.S., the increase in borrowing may bring markets back to the 2006 position of over-valued assets driving lending, which maintains economic activity as long as asset prices only rise and never contract. It seems odd for the global financial markets come back to low-rate policies as a means of economic expansion ignition, something that had questionable efficacy last time.
The party line of "this time is different" may prevail, meanwhile the Bank of England and the Bank of Japan are attempting to tighten their policy of loose capital, which may cause further conflicts with the ECB and Fed.
View Comments and Join the Discussion!
Posted-In: Bloomberg European Central BankForex Top Stories Economics Federal Reserve Markets Best of Benzinga